Vince McMahon's XFL Files Bankruptcy, Hopes to Sell Assets
(Bloomberg) -- Vince McMahon's XFL, the upstart football league that twice promised fans a reinvented game, has landed in bankruptcy with plans to sell off assets just weeks after suspending its comeback season.
Alpha Entertainment LLC, the McMahon-owned corporate entity behind the XFL, filed for Chapter 11 protection from creditors in Delaware Monday, court papers show. Alpha cited as much as $50 million each in assets and liabilities in its bankruptcy petition, which lists XFL as an alternate name for the business.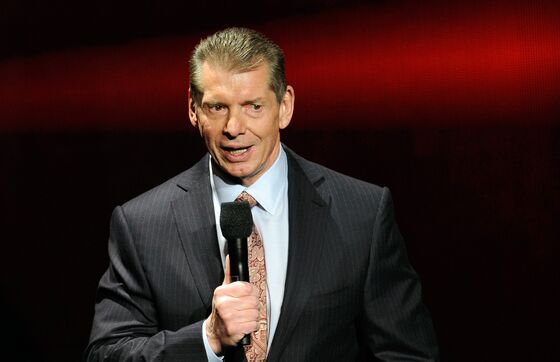 The XFL launched in February with eight teams, almost all of them in cities that also have NFL franchises. The league had broadcast agreements with Fox and ESPN, and promised to embrace new technology, and gambling, in a novel way. It played five weeks, half its regular season, before shutting down.
The league dismissed all but 18 of its 400 employees and about 500 football players in the days preceding the bankruptcy filing, Chief Operating Officer Jeffrey Pollack said in a court declaration.
The league will aim to use its bankruptcy to sell off assets, the most significant of which are the XFL brand, trademarks, and intellectual property like its slogan, "For the Love of Football," Pollack said. Since the league owns all of its teams, its assets also include teams' football equipment and trademarks, he said.
The XFL joins a long list of professional football leagues that have challenged the NFL's dominance and failed. The Alliance of American Football folded last year in the middle of its first season, stranding players at hotels; the original XFL, McMahon's first attempt, folded after one season back in 2001.
McMahon will help wind down the business during the Chapter 11 case, according to the petition. He's personally providing a loan as large as $3.5 million to fund the bankruptcy on top of the $9 million he lent to the league in recent weeks, court papers show.
"The XFL quickly captured the hearts and imaginations of millions of people who love football," the league said in a statement. "Unfortunately, as a new enterprise, we were not insulated from the harsh economic impacts and uncertainties caused by the Covid-19 crisis."
The XFL generated $14 million in revenue through its first three-and-a-half weeks of gamplay and posted a loss of $44 million during that same period, Pollack said. The XFL had $5.6 million of cash-on-hand as of Monday, he said.
Alpha's largest creditors include the St. Louis Sports Commission -- owed $1.6 million -- and XFL coaches Bob Stoops and Marc Trestman, owed almost $2 million combined, court papers show. World Wrestling Entertainment Inc. holds a 23.5% stake in Class B interests.
The XFL is among the first U.S. sports properties, and likely not the last, to suspend its business operations because of the virus, which has halted the entire U.S. sports calendar for about a month. Teams and leagues in all sports are dealing with the economic fallout of having no games, trying to asses the damage through conversations with local health experts, insurance carriers, media networks, sponsors and ticket holders.
The case is Alpha Entertainment LLC, 20-10940, U.S. Bankruptcy Court for the District of Delaware