Vilsack Emerges as a Top Biden Candidate for Agriculture
(Bloomberg) -- Former Iowa Governor Tom Vilsack has emerged as a leading candidate for Agriculture secretary in the Biden administration, reprising a role he held under President Barack Obama, according to people familiar with the nomination process.
The people said that while Vilsack was favored, President-elect Joe Biden has not yet made a decision. He is also considering Representative Marcia Fudge of Ohio and former Michigan Governor Jennifer Granholm.
The Biden team also has considered former Democratic Senator Heidi Heitkamp of North Dakota. A coalition of progressive groups wrote a public letter to Biden criticizing her as being too close to corporate agriculture interests.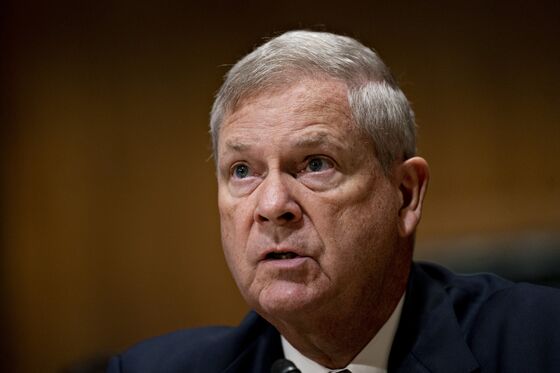 Vilsack served eight years as Agriculture secretary under Obama, and in 2016 Hillary Clinton vetted him as a potential vice presidential nominee. He actively campaigned for Biden in rural areas this year and advised the Biden campaign on rural issues.
He is now president of the U.S. Dairy Export Council, which promotes sales of American dairy products abroad.
Vilsack has been a proponent of international trade, publicly advocating for the Trans Pacific Partnership along with other Obama cabinet officials and for Trump's USMCA agreement at the Dairy Export Council.
He criticized Trump's tariff war with China as harmful to farmers. He told audiences during the presidential campaign that a Biden administration would maintain pressure on China for better trade terms but work together with U.S. allies in Asia and Europe, arguing that would leave farmers less vulnerable to retaliation.
Vilsack did not respond to email and telephone messages.
Biden's choice of Vilsack, if finalized, would fill the post with a proven emissary to rural America and agricultural interests as Biden stresses his intention to reach out to sections of the country that didn't support the Democrat's presidential bid. Rural areas have been bastions of support for President Donald Trump.
Yet Biden faces strong pressure within his party to diversify his cabinet with more minorities, women and figures from the party's progressive wing.
Representative Jim Clyburn of South Carolina, whose endorsement was pivotal to Biden's win in the early-primary state and eventual nomination, had urged the president-elect to choose Fudge, who would be the first Black woman to lead the department. Clyburn has criticized the Biden team for insufficient representation of African-Americans among the first waves of cabinet nominees announced.
Fudge, a senior member of the House Agriculture Committee who represents a majority-Black Cleveland-area district, has been a fierce critic of Trump administration efforts to cut back on food assistance to the poor, which makes up a large portion of the USDA budget.
Granholm has been a strong supporter for Biden and helped him with debate preparation.
NAACP President Derrick Johnson said that Biden's selection of Vilsack "would be questionable to say the least and highly concerning."
Johnson pointed to the 2010 ouster of Shirley Sherrod, then the USDA's Georgia state director of rural development, in response to an edited video published by conservative blogger Andrew Breitbart.
The clip showed Sherrod, who is Black, telling a local NAACP group she was initially reluctant to help a White farmer save his farm more than two decades ago, before she worked at USDA. The clip left out of the speech, intended to show racial healing, that Sherrod went on to help the man save his farm.
Internal e-mails released later showed Sherrod directly pleading with Vilsack to hear out her side of the story rather than rush to judgment. President Barack Obama later apologized for her firing and Vilsack asked her to return -- an offer she declined.
"Here's a person who wrongfully terminated an innocent woman who was a civil rights icon in the state of Georgia, Shirley Sherrod, without even giving the opportunity for her to defend herself only to find out that he'd already terminated her," Johnson said.
He also pointed to Black farmers needing to turn to Congress during the Obama years to resolve lawsuits.
Vilsack and then-Attorney General Eric Holder in 2010 settled a class action civil rights lawsuit brought by Black farmers, alleging racial discrimination in the allocation of farm loans and disaster aid between 1981 and 1996. Most of the $1.25 billion settlement was made contingent on a funding allocation by Congress, since previous legislation had only provided $100 million for the purpose.
Mitch Jones, policy director for Food and Water Watch, one of the progressive groups that has campaigned against Heitkamp's selection, said in an emailed statement that Vilsack also would be unacceptable.
Vilsack "has made a career of catering to the whims of corporate agriculture giants," Jones said.
Some supporters of Vermont Senator Bernie Sanders campaigned against Vilsack when he was under consideration to be Clinton's vice president, branding him "Mr. Monsanto" and citing his role in brokering a compromise on legislation labeling foods containing genetically modified organisms. Sanders opposed the national legislation, which overrode a stricter Vermont state law.
Vilsack, who turns 70 on Dec. 13, was placed in a Roman Catholic orphanage in Pittsburgh days after his birth and later adopted by a local couple. He moved to Mount Pleasant, Iowa, to practice law with the father of his wife, Christie, whom he met while at Hamilton College in upstate New York.
He began his career in public life in 1978, working to raise money for a local sports complex. He was appointed mayor of Mount Pleasant, his first public office, after a disgruntled resident fatally shot his predecessor at a city council meeting in December 1986.
Vilsack's ties to Clinton go back decades. His brother-in-law, Tom Bell, worked with Clinton on the congressional staff of the Watergate hearings. As first lady, she helped raise money for his first gubernatorial campaign, in 1998.