Vietnam Maps Out Plan to Shield Growth as Trade Risks Rise
(Bloomberg) -- Vietnam is intensifying measures to boost economic growth while keeping inflation under control to retain its status as one of the world's fastest-growing economies.
The government is moving to quickly reduce obstacles to private investment, while infrastructure projects will be fast tracked. As one of the most trade dependent nations in Asia, Vietnam is caught in the crossfire of the worsening U.S.-China trade conflict.
Data on Friday showed the economy expanded 6.88 percent in the third quarter from a year ago after expanding a revised 6.73 percent in the second quarter. Year-to-date expansion was 6.98 percent. Inflation was unchanged at 3.98 percent.
Economic growth may exceed the government's target of 6.7 percent by the end of 2018 on strong domestic demand, increasing exports and foreign investment, Nguyen Bich Lam, head of General Statistics Office, said at a briefing in Hanoi.
The rising trade tensions between the U.S. and China "may have a negative impact on inflation in the remaining months of 2018," Lam said. Government agencies, he added, "need to closely watch domestic prices to take suitable actions to curb inflation."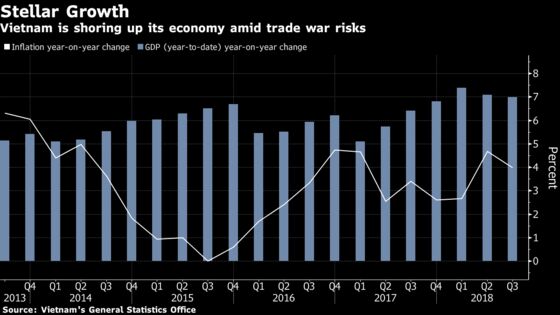 "The government is trying to balance boosting economic growth and keeping inflation under control as the economy is getting stronger pressure from global markets on higher food, oil and dollar prices this year," said Can Van Luc, chief economist at Hanoi-based Bank for Investment and Development of Vietnam.
If trade tensions between the U.S. and China disrupt global production networks and supply chains, the growth outlook for Vietnam will be much dimmer, the Asian Development Bank warned this week, citing risks to the nation's exports and foreign direct investment.
"We have to prudently assess the possible impact from the escalating China-U.S. trade war," Luc said.
Vietnam is also grappling with rising inflation pressure as oil prices climbed. The government is subsidizing fuel costs, and has frozen electricity prices and delayed an environmental tax hike until next year to reduce the impact.
The central bank has kept interest rates unchanged since a cut in July last year, in contrast to others in Southeast Asia which have tightened policy in 2018. There is merit in a tighter monetary policy in the near term, the ADB said.