VietJet Signs $5.3B GE Engine Service Deal for Fleet
(Bloomberg) -- VietJet Aviation JSC signed a $5.3 billion deal with General Electric Co. to service engines for 200 Boeing Co. 737 Max aircraft on order as the budget carrier prepares for rapid domestic and regional growth.
VietJet also signed a $12.7 billion contract with Boeing for 100 737 Max jets that was announced in July, Nguyen Thi Phuong Thao, the airline's founder and chief executive officer, said in an interview.
The agreements were signed this morning in front of Vietnam party chief and President Nguyen Phu Trong and U.S. President Donald Trump, who is in Hanoi ahead of his summit with North Korean leader Kim Jong Un.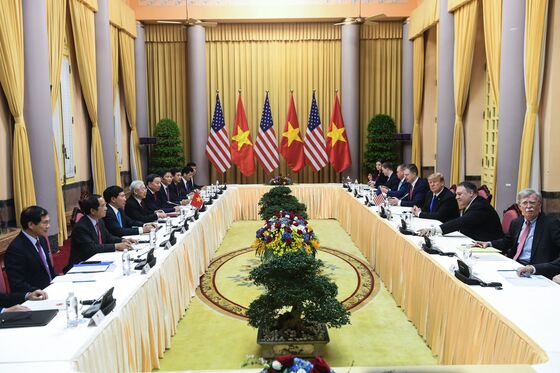 VietJet forecasts 24 percent growth in passengers to 29 million and a 44 percent increase in international flights this year. The carrier's 2018 total revenue jumped 24 percent to 52.4 trillion ($2.3 billion). VietJet expects revenue from aviation sales to surge 40 percent this year.
VietJet, which currently operates 75 narrow-body airplanes, expects to have 371 Boeing and Airbus aircraft delivered by 2025, Thao says. The airline is considering acquiring wide-body planes, though nothing is imminent, she said. VietJet has no plans to swap any narrow-body airplanes on order for larger ones "for now," Thao said.
The airline doesn't expect to fly to the U.S. but instead will rely on code-share partnerships with carriers that have routes to America while focusing on domestic and regional routes, she said. VietJet is in talks with airlines and financial firms to form partnership in markets including Taiwan, Japan, China and Korea, according to Thao.