VietJet Profit Gains on Overseas Growth, More Routes
(Bloomberg) -- VietJet Aviation JSC, the Vietnamese carrier that handed Boeing Co. a $12.7 billion aircraft order this month, said second-quarter profit jumped after more people flew its international flights.
Second-quarter pretax profit rose 44 percent from a year earlier to 950 billion dong ($41 million), said Nguyen Thi Phuong Thao, VietJet's founder and chief executive officer. Revenue gained 52 percent to 8.6 trillion dong, aided by record sales of in-flight food and insurance purchases, she said.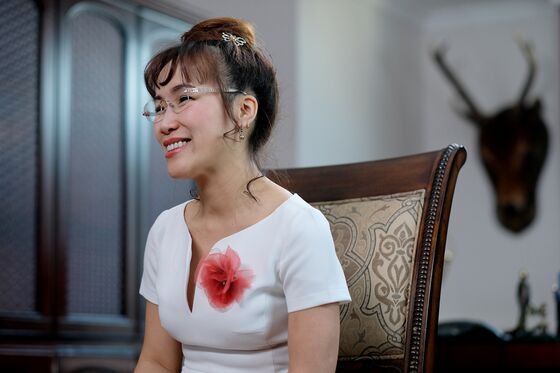 VietJet, with 60 Airbus SE narrow-body planes in service, has another 370 single-aisle airplanes on order from Boeing and Airbus SE as it undertakes one of the biggest international expansions by a budget airline in Southeast Asia. The carrier faces competition in the region from Indonesia-based Lion Air and Malaysia-based AirAsia Group Bhd., both companies also big customers for single-aisle aircraft.
Shares of VietJet rose 3.1 percent as of 9:49 a.m. in Ho Chi Minh City trading. The stock has surged about 15 percent from the start of 2018, while the country's benchmark VN Index has fallen about 4.4 percent this year.
The Vietnamese airline plans to use a number of financing sources to fund the plane purchases, including selling and leasing back some aircraft, issuing overseas bonds and taking bank loans, Thao said. VietJet plans to sell 13 planes it's scheduled to receive in the second half this year and another 12 in 2019 to leasing international companies, she said.
The carrier, which was considering routes to the U.S. and Europe, will instead focus on expanding international flights that take no longer than six hours. VietJet will use A321neos on flights planned for Australia in the fourth quarter next year, according to Thao. The airline's passenger number rose 28 percent to 5.8 million in the second quarter 2018, with two-thirds of it from international routes, Thao said.
"It's getting more competitive in the domestic market," she said. "Our strategy is to expand international flights and boost revenue from non-ticket sources, such as food, baggage fees and insurance."
Vietnam's annual domestic seat capacity growth has slowed to single digits in 2017 and this year after experiencing increases well above 20 percent annually the four prior years, said Brendan Sobie, a Singapore-based analyst at CAPA Centre for Aviation. International seat capacity growth is accelerating, reaching about 20 percent a year in the past three years, he said.
Both VietJet and its chief competitor, state-owned Vietnam Airlines, are pivoting to overseas travelers to fuel growth. Startup airline Bamboo Airways, owned by real estate developer FLC Group JSC, is awaiting a government aviation license as it plans to begin service in October.