Victor Li Wants New China Tech to Transform Father's Old Empire
(Bloomberg) -- Victor Li, head of one of Hong Kong's oldest business empires, has been busy forging partnerships with a slew of mainland Chinese technology companies to modernize CK Group after taking over the conglomerate earlier this year.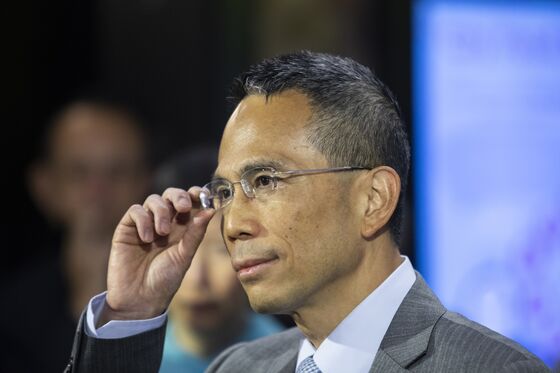 Li succeeded his 90-year-old father Li Ka-shing, Hong Kong's richest man and a legendary investor in Asia, as head of the family business in May. But even before he was handed the reins, the younger Li -- who serves as chairman of CK Hutchison Holdings Ltd. -- was striking agreements in the tech space, as he seeks to make his mark.
In the past year, he's made the following deals in China's dynamic tech scene:
In October, CK's retail arm, Watson, agreed to a 1.25 billion yuan ($180 million) venture with partners including Tencent Holdings Ltd., which will provide big-data and cloud-computing assistance.
A partnership last month with Meitu Inc. that will bring the latter's "Magic Mirror," a service allowing customers to simulate the looks of various types of makeup virtually, into Watson stores.
CK and Xiaomi Corp. announced a global alliance in May. The conglomerate will start to sell Xiaomi smartphones and other products through its stores. 
CK and Alibaba Group Holding Ltd. affiliate Ant Financial decided in September last year to set up a venture to operate the AlipayHK digital payment service in Hong Kong.
With the 54-year-old tycoon seeking to spend billions of dollars buying gas pipelines in Australia and real estate in Hong Kong, the tech deals have largely flown under the radar. But the moves could have broad implications for the group as they signal Li is trying to address criticism that CK companies -- whose operations include traditional businesses such as ports, water, oil drilling and groceries -- missed out on the global technology wave.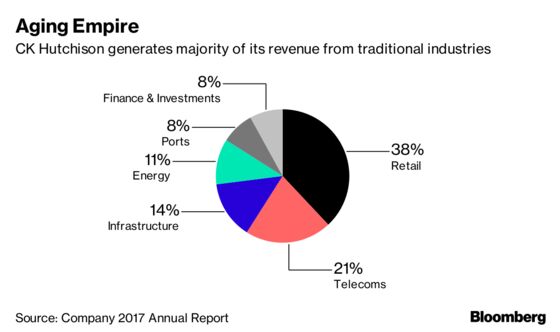 "What CK Hutchison is trying to do is to break out from the old model," said Francis Lun, chief executive officer at Geo Securities Ltd. "They want a foothold in the new economy. Otherwise, they would be an old flower. Nobody would take notice of them."
More broadly for Li, pressure is building for the scion-turned-patriarch to re-examine whether to maintain the status quo or chart a new path for CK, even though he's repeatedly said that he doesn't plan to make drastic changes at the group. Investment destinations such as Australia are no longer as welcoming as they once were and some of the group's main businesses are facing the prospect of falling behind nimbler technology upstarts.
The CK chief, one of the handful of tycoons that dominate Hong Kong, isn't alone in feeling the pressure as the dynasties behind Sun Hung Kai Properties Ltd. and New World Development Co. have also announced similar partnerships in the past year.
The Fung family, the dynasty behind Li & Fung Ltd., reached an agreement this month to collaborate with Alibaba. Sun Hung Kai, headed by billionaire Raymond Kwok, in October teamed up with Tencent to offer mobile payments for phone bills and retail outlets. New World, which is controlled by Hong Kong's Cheng family, worked with Tencent to set up a culture and innovation center at its KOHO office building in Kwun Tong last year.
"Having high-tech offerings will enhance the branding of these conglomerates as more avant-garde rather than traditional brick-and-mortar companies," said David Ji, head of research for Greater China at property firm Knight Frank LLP.
But questions abound whether forging alliances will be enough to spur the type of modernization that will keep Hong Kong's dynasties competitive in the coming years. There's also the matter of the volatile nature of Chinese tech companies -- Tencent's lost more than $200 billion in market value since its January peak, while Meitu has tumbled 59 percent in 2018.
"With all these new-economy things, nobody really knows," Lun said. "You should be pessimistic. You cannot teach an old dog new tricks."