Veterans of Sydney Markets Are Betting on Banks on Policy Aid
(Bloomberg) -- Australia's biggest banks will prove to be winning investments as unprecedented policy measures help cushion the damage from the coronavirus for businesses and consumers, according to fund managers accustomed to investing in times of stress.
Bill Bovingdon, chief investment officer at Altius Asset Management, is looking to buy credit of the country's major banks following the recent blowout in spreads. Ausbil Investment Management Ltd.'s Paul Xiradis now has more bank equities in his portfolio than is typical in the indexes he tracks.
Both investors are seizing on this year's extreme moves in stock and credit markets. While it remains unclear how and when economies will get back on track, the investors say that a concerted policy response Down Under has provided a floor for bank valuations.
"Most of our corporate holdings we are certainly not adding to and we are selectively down weighting, but in the banks and finance sector we're actually looking to add, if anything, in that area," Bovingdon, who began his career in fixed income markets in the early 1980s, said in a phone interview. "There's some value there now and some relative safety."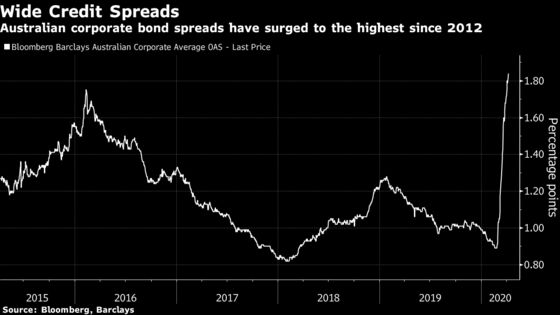 Australian financial shares are down about 30% this year, among the sectors most hardest hit, with dividends under severe threat. The declines have left valuations at enticing levels for Xiradis, whose investment experience dates back to 1979.
"We are a little overweight the banks because they went into this crisis with real financial strength and they are working with the government to support business and consumer activity," the chief investment officer and founder of Ausbil wrote in an email. "Unlike in 2008, they are part of the solution, not part of the problem."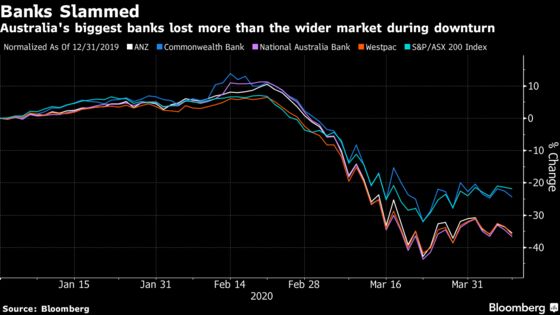 Meantime, Janus Henderson bond manager Jay Sivapalan also likes bank credit. Investment-grade bond spreads haven't widened in Australia as much as in the U.S., leaving opportunity to find bargains, he said.
"We've purchased major bank debt, subordinated debt and other areas which are investment grade proxies for global credit," said Sivapalan, head of Australian fixed income at Janus Henderson.