Veteran Jope Ticks Right Boxes for Unilever CEO Job: Street Wrap
(Bloomberg) -- Unilever's appointment of Alan Jope as successor to Chief Executive Officer Paul Polman met with a mixed response from analysts. While some said Jope's vast experience over more than three decades at the consumer-goods giant stands him in good stead, others suggested that his lack of familiarity with investors may raise questions over the company's strategy and direction.
The shares, which have more than doubled during Polman's near 10 years in charge, showed indifference to the news, trading little changed in Amsterdam.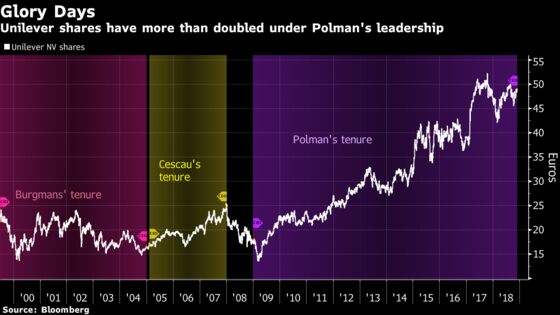 Here's a round-up of what analysts are saying:
Andrew Wood, Sanford C. Bernstein (outperform)
Jope had been Bernstein's favorite candidate to take over from Polman and a view the broker thinks was shared among investors
In addition to running Unilever's personal-care unit since 2014, Jope has held a number of other significant management positions in various regions and categories
Many investors really like Polman and consider him very difficult to replace as CEO
"It is sometimes worthwhile taking time to remember just how poorly managed and perceived Unilever was in 2008"
Reg Watson, ING Bank (buy)
ING had expected that Polman would be succeeded by Graeme Pitkethly, currently CFO and architect of Unilever's C4G margin-improvement program
The board has instead chosen "to appoint a comparatively unknown Unilever lifer"
Jope's credentials are "impeccable," but investors' lack of familiarity with him may raise questions over Unilever's strategy and direction, particularly after the company abandoned its share structure unification plan
Pierre Tegner, Oddo BHP (neutral)
Jope's nomination is "probably the most consensual scenario" and should be positively received because it will support a scenario of continuity
Those who were expecting a big change driven by an external CEO appointment could be a bit disappointed
Unilever has been a prolific acquirer of small assets in recent years, and most of these purchases have taken place in the beauty & personal-care division
UBS sees investors debating the merits and shortcomings of Unilever's M&A strategy more openly with Jope's appointment



James Edwardes Jones, RBC (underperform)
Jope isn't "an external rock star appointment, which might come as a disappointment to some"
New CEO is a deep thinker about his category, "although we haven't got any experience of his thoughts about other aspects of Unilever's business"
Jope's biggest challenge is whether to retain the sales growth and margin growth targets bequeathed to him by Polman