Verizon Warns Owning Social Media Can Undermine User Trust
(Bloomberg) -- Verizon Communications Inc.'s media executive warned that companies that want to maintain trust with consumers should avoid owning internet platforms where users are responsible for content.
"We used to own an asset called Tumblr," Guru Gowrappan, chief executive officer of Verizon Media, said on a panel hosted by Bloomberg News at the World Economic Forum in Davos. Companies "cannot be in the user-generated content business if you want to maintain very deep trust."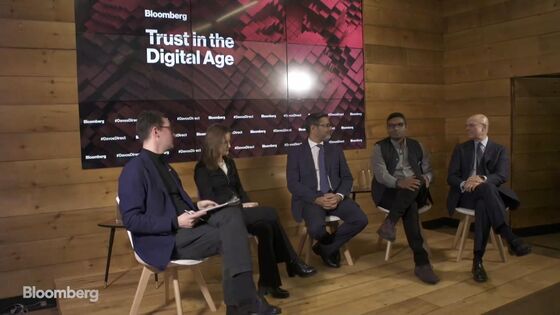 In August, Verizon sold blogging platform Tumblr as part of a broader strategy of moving away from areas like user-generated content and social media. The company reaches 900 million monthly active users across platforms including the Huffington Post and Yahoo News, said Gowrappan.
Social media companies have been struggling with how to manage content on their platforms. Facebook Inc. has pledged $130 million over six years to pay for its proposed content oversight board, a Supreme Court-like group of outsiders that will help make some decisions about whether posts violate the company's policies.
Public awareness led to higher standards in the wake of the Cambridge Analytica scandal, said Gowrappan, adding that companies need to be transparent about the value they intend to get out of customer data.
Consumer trust also risks being eroded across all industries as companies begin to use artificial intelligence, warned Wipro Ltd's CEO Abidali Neemuchwala.
"The days are not far when you make a mortgage application and the AI algorithm decides whether you are approved for the mortgage or not," said Neemuchwala. "To keep the trust of your consumer, especially when you deny a mortgage, you will have to give specific reasons."
The comments from Wipro's CEO come weeks before the EU is set to unveil its plans to legislate the technology, which could include new legally binding requirements for AI developers in "high-risk sectors," such as healthcare and transport, according to an early draft obtained by Bloomberg.