Veolia Agrees to Buy Suez, Ending Bitter Takeover Battle
(Bloomberg) -- Veolia Environnement SA agreed to acquire Suez SA, ending a long and bitter takeover battle with a sweetened offer.
After nearly eight months of fierce resistance from Suez's management, Veolia unlocked a deal, lifting its offer price and pledging to sell back a bigger part of its French water rival to maintain competition.
The deal gives Suez an equity value of about 13 billion euros ($15 billion), Veolia Chief Executive Officer Antoine Frerot told reporters on Monday.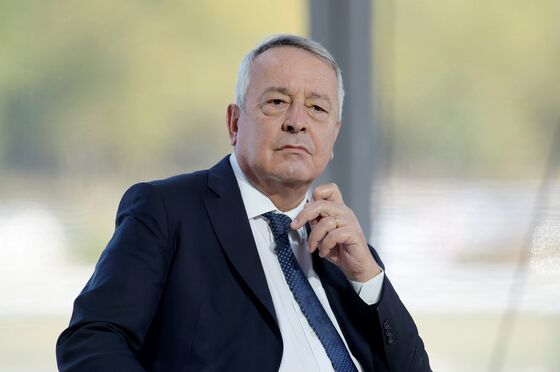 Veolia agreed to pay 20.50 euros a share for the roughly 70% of Suez it doesn't already own, according to a statement. It bought its initial stake in the company last year for 18 euros a share from Engie SA, which will benefit from the revised takeover price.
The transaction will create a global giant in waste and water services under the Veolia umbrella, with annual revenue of about 37 billion euros. It will also leave some elements of Suez to continue as a new business owned by a variety of French shareholders and private equity groups.
"Given that we'll get most of the assets that we really wanted for our project, this deal will largely create value for Suez shareholders," Frerot said.
Suez shares traded 7.6% higher at 19.84 euros by 1:26 p.m. in Paris. Veolia jumped 8.7%.
The two companies will enter into a definitive agreement on May 14. The transaction requires approval from competition authorities in several countries.
"For Veolia, this agreement ends months of uncertainty, which has held back the shares," Barclays analysts said in a research note. "Although we're still missing more detailed financial information we believe investors will take the view that this agreement will be realized leading to a win-win for both."
As part of the deal, French investment funds Meridiam and Ardian SAS -- along with France's Caisse des Depots et Consignations and U.S.-based private equity firm Global Infrastructure Partners -- will be allowed to buy Suez assets with 6.9 billion euros in revenue, Frerot said on a conference call.
Suez employees will also be able to participate, and a majority of the shareholders of the new Suez company will be French, he said.
These assets include Suez's municipal water and solid waste activities in France; its water businesses in Italy, the Czech Republic, Africa, Central Asia, India, China, Australia; and its digital and environmental activities.
The price offered for these assets will be "coherent" with the price of the whole transaction, Frerot said. The buyers of the new Suez have pledged to keep it for at least 10 years, he added.
Meridiam is ready to take at least 40% of the future entity resulting from the agreement, provided that the terms allow for the implementation of a very long-term industrial project, the French investment firm said in a statement.
Until now, Veolia had offered to sell back only Suez's French assets, which have more than than 5 billion euros in revenue. Suez made a counter-proposal last month to keep 9.1 billion in revenues. The deal reached by Veolia includes termination of an agreement in which Suez planned to sell its most of its Australian assets to Cleanaway Waste Management Ltd.
The deal between the two French rivals marks a surprise U-turn as they've spent months fighting in courts and in the political arena, accusing each other of lying and pretending to pursue a negotiated solution.
Prior to their agreement, Suez expressed concerns that Veolia's hostile takeover would stifle competition, hurt jobs in France, and leave the remaining Suez assets with too narrow a base to compete. Meanwhile, Veolia accused Suez's management of putting their own interest above that of the company's shareholders, and of organizing the dismantling of their own group by selling assets.
"The deal that we reached last night is historic," Frerot said. "It will allow Veolia to build a global champion in ecological transformation."