Venezuela's Bonds May Be Worth Nothing or Make Investors a Mint
(Bloomberg) -- Distressed-debt investors are deeply divided when it comes to how much bondholders can recover after a Venezuelan restructuring.
Doomsayers argue that a nation suffering Latin America's worst humanitarian catastrophe has greater concerns than paying investors. Harvard economist Ricardo Hausmann, an informal adviser to U.S.-backed National Assembly leader Juan Guaido, has said creditors must take a big haircut. Jay Newman, the former hedge fund manager who specializes in distressed debt, has previously said that bonds from state oil giant PDVSA "could be a zero."
Optimists point to a country with the world's largest proven oil reserves, the likelihood of a big bailout from the International Monetary Fund and foreign investment that could catalyze growth under a new government. With that backdrop, Venezuelan bonds could recover to as high as 80 cents on the dollar, from the current range of 25 to 33 cents, according to Ray Zucaro, the chief investment officer at RVX Asset Management in Miami.
The issue is coming to a head after some of the nation's $60 billion worth of defaulted debt nearly doubled in price as opponents of President Nicolas Maduro gained momentum in their efforts to oust him, a move investors hope could lead to a favorable restructuring. The opposition has already discussed the possibility of hiring well-known debt attorney Lee Buchheit for an advising role once they take full control of the government.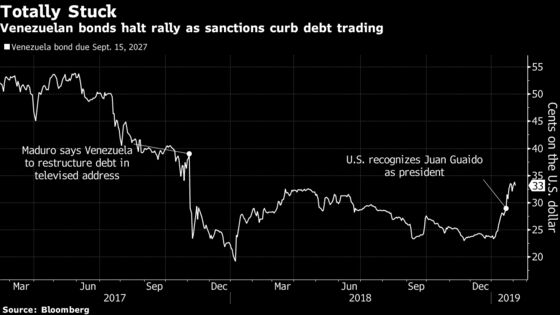 Trading in notes from Venezuela and PDVSA ground to a halt earlier this month after the Treasury Department imposed rules that forbid U.S. persons from purchasing the securities, limiting the world of potential buyers to overseas hedge funds, sovereign-wealth funds and other entities with no American ties.
Here's a look at some of the recovery estimates:
Jay Newman, former portfolio manager at Elliott Management Corporation
"It is impossible to predict recovery values. What does seem clear is that the country will likely enact some form of statutory insolvency or bankruptcy regime in order to rationalize not just the amount of PDVSA debt, but the many different forms of debt."
"Absent that kind of framework, PDVSA and its creditors will end up in a morass of court battles in different jurisdictions"
Bent Lystbaek, a money manager at Danske Capital in Lyngby, Denmark
Recovery value will probably be in the 35- to 40-cent range
"I don't believe PDVSA will be treated differently from the sovereign in a restructuring scenario, which is why we're overweight the cheaper PDVSA bonds relative to the sovereign"
Siobhan Morden, head of Latin America debt strategy at Nomura in New York
Expects recovery value of 30 to 50 cents
"I think investors will accept low coupons but argue against a large haircut if we assume a successful reboot in the oil sector over the next five to 10 years"
Investors won't face a haircut as big as the 90 percent seen in Iraq
Graham Stock, senior strategist at BlueBay Asset Management in London
Iraq restructuring is a relevant comparison
Venezuela will need "significant financing" to stimulate a recovery, so the existing debt will need to suffer a big haircut to create room for that new borrowing
Wouldn't be surprised if U.S. deploys tools akin to Iraq's asset protection order to facilitate restructuring in support of new Venezuelan government
Hans Humes, chairman and CEO of Greylock Capital in New York
Recovery value on bonds is "possibly double" current prices
"Creditors will have to be part of the solution [and] being a vulture fund won't make you too popular"
Francisco Ghersi, managing director of Knossos Asset Management
Recovery value will probably be in 20- to 30-cent range
Venezuela will need to strike a balance between treating bondholders fairly and getting to a sustainable debt burden
"The recovery plan will ask investors to take a huge haircut"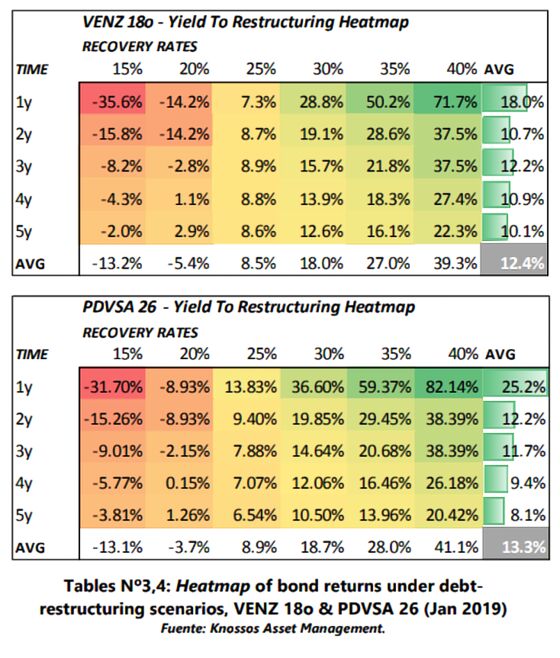 Lutz Roehmeyer, a money manager at Capitulum Asset Management in Berlin
The most likely scenario is bonds have a recovery value of 40 cents
"When there is a regime change, lifting of sanctions, new investments in the oil sector and an IMF aid package, the recovery could be even higher"
Patrick Esteruelas, a senior analyst at Emso Asset Management in New York
Increase in oil exports could lead nation's ratio of debt to long-run GDP to drop to about 65 percent from 110 percent
Venezuela could be in a "considerably better position" than Argentina and Greece, which saw recoveries of 27 and 37 cents
Simon Waever, strategist at Morgan Stanley in New York
"Very hard" to get recovery values much above 50 cents
Amount of multilateral and bilateral support needed in early years after regime change would make it difficult for creditors to argue Venezuela should make larger payments to them