Venezuela Chaos Unites Latin America's New Right
(Bloomberg Opinion) -- From tariffs to tyrants, the nations of Latin America don't often see the world the same way. So the gathering outcry over the accelerating emergency in Venezuela, followed by recognition that enfeebled autocrat Nicolas Maduro must go, stands out.
Only a handful of left-wing leaders dissented when countries across the Americas dropped the customary indulge-thy-neighbor diplomacy to recognize National Assembly leader Juan Guaido as temporary Venezuelan president. Dubious honors to Bolivia's President Evo Morales who declared solidarity with Nicolas Maduro and decried the "claws of imperialism" that would yank him from power.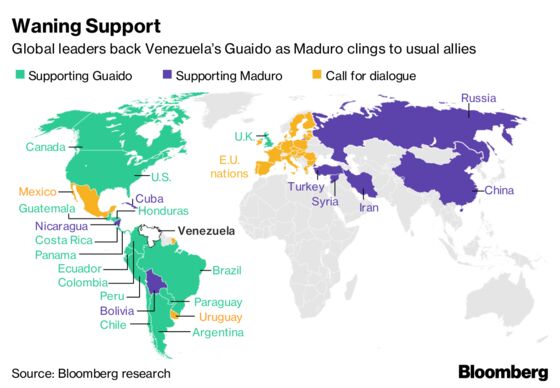 That lonely howl says a good deal about the shifting political mood in Latin America, where leftist national leadership is being washed away by a rising and still transforming political tide from the right.
Discontents see this wave as a recrudescence from an authoritarian past, when Latin America was the object of superpower avarice and designs. The new blue tide has many banners, from aggressive evangelical Christian conservatism to disruptive capitalism, but the Venezuela crisis suggests the broader change owes less to a new Cold War than a collapse of governability. "This shift is in response to the management failure of the populist left in Latin American governments," says political analyst Fernando Schuler, who teaches at the Sao Paulo business school Insper. "If redemocratization strengthened the left's hold on politics, academia and the bureaucracy, now it's the mainstream, pro-market agenda that has gathered strength."
How Venezuela's political calamity will end — a dictatorial backlash? Civil war? Maduro fleeing to exile? — is anyone's guess. The larger riddle may prove to be how to restore order and prosperity to the shambolic Andean economy. And this is where Venezuelan democrats, notwithstanding the formidable economic talent the opposition leaders have on speed dial, ought to take their cues from the accident-prone political reboot playing out across the Americas.
Latin America, after all, is the bane of governmental dream teams, as even the region's functioning democracies have discovered. Argentina is a ward of the International Monetary Fund, the transformative financial wizards President Mauricio Macri brought to office long since cashiered. Peru's Pedro Pablo Kuczynski, once the toast of Wall Street, fell to a corruption scandal while Brazil's alpha economists saw their ambitious policy makeover aborted and even their successful reforms eclipsed by President Michel Temer's disgraced exit.
The "new Brazil" Jair Bolsonaro flogged this week at the World Economic Forum — leaner government, lower taxes and a war on corruption — augurs well for a region hobbled by protectionism and government overreach. All these initiatives signal that Brazil too has taken a turn to the political right.
Just what sort of right wing will predominate in the region is a more difficult call. There's a lot of ideological daylight between the God, guns and no-quarter-for-criminals rant Bolsonaro fed to his conservative base during the campaign, and the free-market pieties he recited from the teleprompter in Davos. And no one knows what policies will drive Venezuela's opposition if they come to office.
The distance is considerable between Bolsonarismo and the more shape-shifting conservatism of his neighbors. Consider Chilean President Sebastian Pinera, a former credit card tycoon, whose political tin ear and early faith in market solutions collided with public fury and nearly crippled his embattled first mandate from 2010 to 2014. Elected for another term in late 2017, he pivoted to the center and has calibrated his belief in open markets to embrace socially liberal banners such as gender rights, protection for LGBT people and indigenous groups, and tough new fines for environmental violations.
The view gets murkier still from Argentina, where pro-business independent Macri was elected to rescue the economy from the miscreant populism of Cristina Fernandez de Kirchner, only to find that his fiscal gradualism pleased neither Argentina's investors and business elite nor the general public frustrated by a chimeric recovery.
And how to peg Colombia's Ivan Duque, a protégé of the angry rightwing "caudillo" Alvaro Uribe but far closer in sensibility to the more conciliatory centrism of his maligned and somewhat feckless predecessor, Juan Manuel Santos?
"If this is a blue tide, there are many shades," said Schuler. "Instead of a prevailing tone, we are likely to see many gradations coexisting in the region."
Matias Spektor, a professor of international relations at the Getulio Vargas Foundation in Sao Paulo, draws a line between two claques of the political right competing for ascendancy in Brazil that could be stretched across the region.
One is the global right, which defends the rule of law, democratic institutions and greater liberties for both markets and individuals. Think Pinera, Duque, Macri and perhaps Peru's reformist caretaker President Martin Vizcarra.
If there is a common skein to the many strands of the new right, it's an appreciation that balanced budgets can also be good politics. Encomiums to fiscal temperance are not new but the recent consensus grew out of collective disappointment over classic Latin American boom and bust economics. Nowhere is the failure more abject than in Venezuela, the once marquee oil producer which has seen its output more than halved under the chaos of Bolivarian economics.
Most Latin American nations have scrapped or are in the process of undoing the expansionary economic policies they eagerly adopted during the world financial crisis. Years of public overspending drove El Salvador's right and left to sign on to fiscal conservatism, though financial analysts expect that ardor may flag as this year's presidential race approaches.
"There's a growing perception that economic stability and governability matter, and that these are the metrics that are going to strengthen your credit profile," Aristodimos Iliopulos, a Latin America analyst with Barclays Investment Bank, told me. "There's been a huge shift to fiscal responsibility laws in large and small countries."
It's not that Latin America's conservatives suddenly have become paladins of sound economics. Look no further than Bolsonaro, who spent nearly three decades in the legislature decrying privatization and boosting state interventionism. In Davos, thankfully, Bolsonaro ditched the ad hominem verbal attacks on minorities, women and human rights that fueled his campaign. But nor was he forthcoming on how he means to muster the fractious legislative branch and convince special interests, not least the military, to get behind pension reform and return Brazil to solvency.
Economic liberalism hasn't yet won the day. "Don't expect a sweeping liberal consensus," says Schuler. "With the region's stubborn levels of poverty and inequality, Latin America will always be a political cauldron, vulnerable to the enchantments of populism of the left or right."
That's a caveat Juan Guaido, or whoever rises to govern from the Venezuelan disaster, needs to keep in mind.
This column does not necessarily reflect the opinion of the editorial board or Bloomberg LP and its owners.
Mac Margolis is a Bloomberg Opinion columnist covering Latin and South America. He was a reporter for Newsweek and is the author of "The Last New World: The Conquest of the Amazon Frontier."