Vauxhall Owner Is Considering Closing a Factory Post Brexit
(Bloomberg) -- Two factories may be too many for British automaker Vauxhall, whose French owner is weighing its options in case of a drop in car demand post-Brexit.
The sister brand of Opel is reviewing responses to a potential market decline after the U.K. leaves the European Union, including the feasibility of permanently shutting down one of its two sites, according to a person familiar with the matter. The person, who asked not to be identified discussing private deliberations, cautioned that no decision has been made and Vauxhall's owner, Peugeot-maker PSA Group, was still assessing prospects.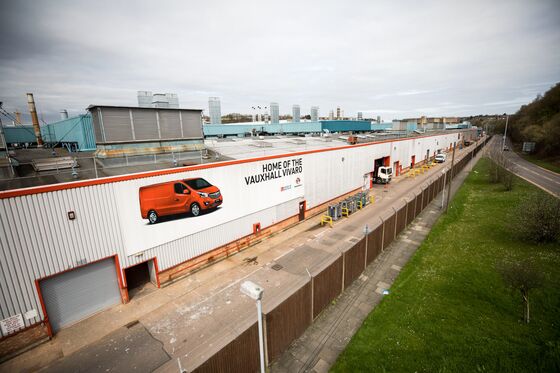 Among other options being considered for Vauxhall: Stockpiling parts to avoid shortages ahead of the the breakup -- as aircraft engine-maker Rolls-Royce Holdings Plc has said it may do -- and bringing forward a summer shutdown like BMW AG, several people familiar with the matter said.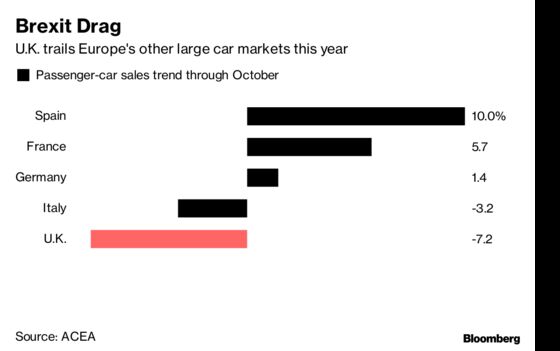 "We do not want to comment at this stage on Brexit process and its assessment by Groupe PSA as it is not the final step for implementation," Vauxhall said in a statement. "We are working in an agile mode, as usual, and we have several solutions to address different scenarios."
A PSA spokesman declined to comment. Shares in the French carmaker rose as much as 2.4 percent to 20.25 euros, outpacing gains of 1.1 percent for rival Renault SA.
Carmakers, planemaker Airbus SE and other manufacturers have warned for months that they will be forced to pull resources if Brexit leads to border delays, tariffs, or added paperwork that drive up costs. Prime Minister Theresa May's plan to ease some of those concerns is on the ropes, leaving her government in crisis and the deal with the EU in limbo with the March 29 divorce creeping nearer.
As May vowed to see her plan through, Rolls-Royce Holdings Plc CEO Warren East called for a pragmatic approach that allowed some disagreements, with any deal being better than none, he told BBC radio.
While few have given details, companies have stepped up contingency planning as the odds rise of the U.K. crashing out of the EU with no deal.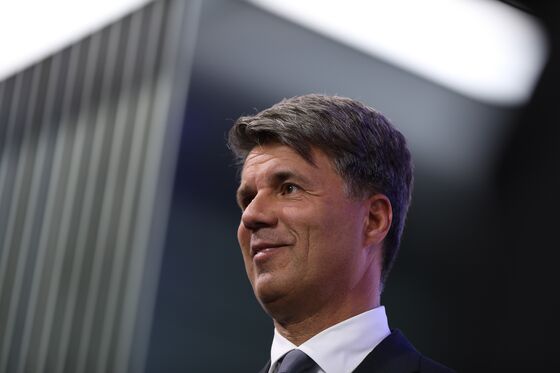 BMW CEO Harald Krueger said last month at the Paris Motor Show that the carmaker, which builds Minis at its Oxford plant in Cowley, England, may have to move production to the Netherlands. Royal Philips NV has been warning since July it would do the same with its baby-products factory in Glemsford.
"The political situation remains uncertain," BMW said in an email late Thursday. "As a responsible employer, we must therefore continue to prepare for the worst-case scenario, which is what a no-deal Brexit would represent."
Paris-based PSA employs about 3,000 people in the U.K., mainly at plants in Ellesmere Port, where it builds the Astra model south of Liverpool, and Luton, near London, which turns out medium-size vans.
Brexit, along with a drop in diesel's popularity, has already hurt U.K. car sales this year. New-car registrations are down 7.2 percent, according to the industry group SMMT. Vauxhall's have declined 11 percent, while the Peugeot brand is off 2.8 percent and Citroen has dropped 3.6 percent.
Earlier this year, PSA announced plans to build a new model of the Vivaro van in Luton and increase production in 2019 with a 100 million-euro ($112 million) investment. PSA has announced 650 job cuts at Ellesmere Port since it bought the brand from General Motors Co. last year.
About 80 percent of the cars made in the U.K. are exported, with half of those going to the EU, according to the SMMT. The U.K. accounts for about 10 percent of PSA's global unit sales.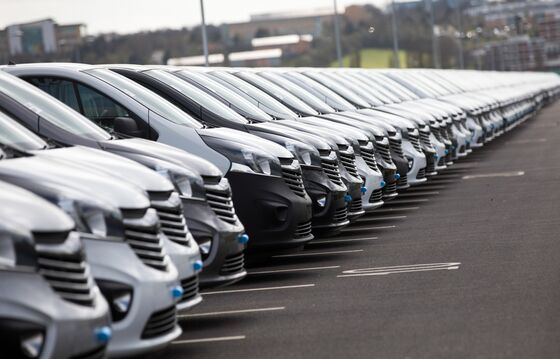 Carmakers also import parts and components, which would be vulnerable to any border delays or tariffs. Only 40 percent of Vauxhall's Vivaro van components, for example, are produced in the U.K., according to a spokesman. That figure is about 23 percent for the popular Astra.
If there's no deal, "my responsibility will be to protect my company," PSA Chief Executive Officer Carlos Tavares said in Paris.