E-Cig Users Are Already Searching for Ways Around Coming U.S. Sales Restrictions
(Bloomberg) -- U.S. regulators are seeking sharp sales restrictions on tobacco products that appeal to young people, but internet users are already looking for ways to get around them.
Food and Drug Administration Commissioner Scott Gottlieb hinted for weeks that his agency would take action to halt a dramatic increase in underage use of e-cigarettes. As part of a series of measures outlined on Thursday, he said that the agency would limit sales of most types of flavored e-cigarettes to specialized stores and online retailers that can verify a purchaser's age.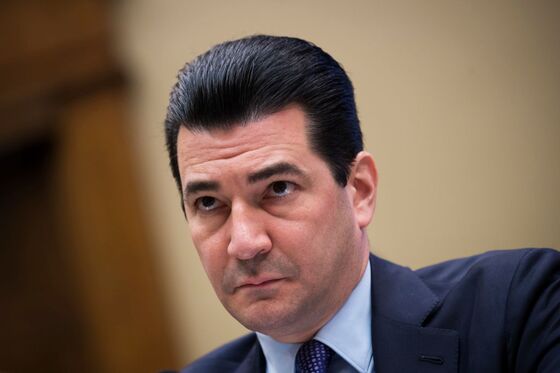 The regulator also plans to draw up bans on menthol-flavored cigarettes and flavored cigars. The moves are part of a broader push by Gottlieb to reduce smoking and nicotine use.
However, there are already signs that users will be looking for ways around the rules. On Nov. 9 and 10, following reports that the FDA would ban fruity e-cigarette flavors in most stores, Google searches for "how to get past Juul age verification" and similar questions surged 125 percent, according to SEMrush, an online data-analytics firm.
The instantaneous effort to circumvent the proposed restrictions is one sign of how hard it could be to stop what the FDA has called an epidemic of underage vaping. The proposals, which many observers said may not be strong enough, are likely to face significant pushback from the industry.
"There's been a lot of announcements from the FDA about its plans to do things but it's disappointing to not see any clear dates or timelines about when they plan to implement any of these pieces," said Micah Berman, an associate public health and law professor at Ohio State University.
E-cigarette use has grown explosively among younger users over the past year. The number of U.S. high-school students who reported using e-cigarettes rose 78 percent between 2017 and 2018 to more than 3 million, according to the FDA and the Centers for Disease Control and Prevention.
The rapid rate of increase in vaping by teens has alarmed U.S. health officials and prompted Gottlieb to reverse a more hands-off approach taken last year. He indicated that he still hoped e-cigarettes could help some adults to quit smoking, but not at the cost of creating a new generation of nicotine users.
"I will not allow a generation of children to become addicted to nicotine through e-cigarettes," Gottlieb said in a statement Thursday. "We'll take whatever action is necessary to stop these trends from continuing."
Teens have been enticed by the fruit and candy flavors as well as sleek and easy-to-conceal devices sold by companies like Juul Labs Inc. Juul pointed out in a statement that it released a plan Tuesday to stop selling fruit-flavored nicotine pods to retail stores and shut down its U.S.-based Facebook and Instagram accounts. Those steps are expected to reduce Juul's in-store sales by 45 percent, according to a person familiar with its sales projections.
Sales of Juul make up more than 70 percent of the U.S. e-cigarette market, according to a Bloomberg Intelligence analysis of data from market researcher IRI. Given the strong hold Juul and other devices have on younger users, some health advocates had hoped for more stringent safeguards.
"We would have expected that the greatest impact on reducing youth access to flavored tobacco products would have been from a sweeping ban," Deborah Ossip, director of the Smoking Research Program and the University of Rochester Medical Center in New York. "Anything short of that, there are concerns that distributors will find ways to work in the policy that will still make these products available and that youth that are looking for them will still find ways around these policies."
Imperial Brands Plc, which sells Blu e-cigarettes, said it recognizes the FDA's concern about age verification and is considering taking additional measures. The Bristol, England-based cigarette maker has been developing a version of its MyBlu device with locking technology that's supposed to keep children from using it.
Gottlieb said the FDA would firm up a policy on e-cigarette sales in the coming weeks to months. He said it could still opt to take all e-cigarettes off the market if youth use doesn't abate.
Lawmakers praised the proposals. Senators Dick Durbin, an Illinois Democrat, and Lisa Murkowski, an Alaska Republican, said in a joint statement the FDA "is finally moving in the right direction." New Jersey Democratic Representative Frank Pallone called the proposal to ban menthol a "critical step forward."
Some analysts anticipate that efforts to restrict flavored e-cigarette sales in some channels while allowing them in others will be challenged. Stefanie Miller, an analyst at Height Capital Markets in Washington, questioned whether the FDA proposal is legal.
"FDA doesn't not have the authority that I can tell to pick and choose what they call face-to-face retail pathways," Miller said. "You can approve a product or not for sale but don't get to say where it can be sold."
Gottlieb said a draft rule on menthol cigarettes would take shape in 2019, but any effort to pull those products from the market entirely appeared likely to draw strong opposition from the tobacco industry. Menthol sales account for about 35 percent of the U.S. cigarette market by volume, according to Bonnie Herzog, a Wells Fargo analyst.
Altria Group Inc., the maker of Marlboro cigarettes, called a menthol ban "an extreme measure not supported by the science and evidence." The company said in a statement that it expected a multiyear rulemaking process and that it "will be fully engaged throughout."
Shares of tobacco companies fell. Altria dropped 3.1 percent in New York trading Thursday, bringing its five-day drop to almost 10 percent. British American Tobacco Plc has declined 16 percent in London this week, while Swedish Match AB, a major manufacturer of flavored cigars, dropped 14 percent during that period in Stockholm.
Marc Scheineson, a former associate commissioner at the FDA who is now a lawyer for small cigar and cigarette companies at Alston & Bird in Washington, said that what Gottlieb framed as a menthol ban is far from it. The FDA "would like to impose a ban, but the rulemaking process is long and drawn out," he said.