Vans Stand to Become Boon for VW, Ford as Demand Outpaces Cars
(Bloomberg) -- The unstoppable march of Internet shopping and an increasing number of people moving to cities will drive demand for delivery vans in coming decades, benefiting manufacturers like Daimler AG, Volkswagen AG and Ford Motor Co. and drawing in new competitors like Rivian Automotive Inc. offering electric vehicles.
Van sales in the U.S., Europe and China are set to jump by three-quarters through 2040 to reach 8.5 million vehicles annually, according to BloombergNEF's "Electric Vehicle Outlook 2019." Global growth will be even higher, outpacing an expected 15 percent increase in deliveries for the much larger passenger car market.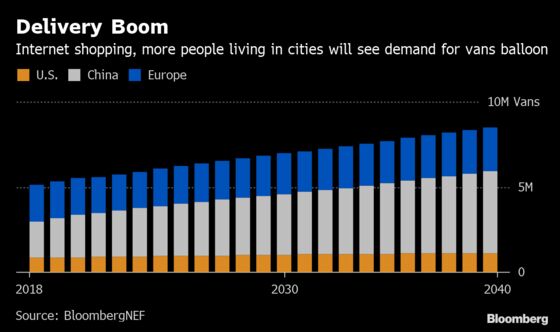 Vans will follow almost the same trajectory to cars when it comes to electrification, with 56 percent of sales expected to be electric by 2040, BloomberNEF said, a rate of adoption much higher than for mid- or heavy-duty trucks due to lighter payloads and shorter distances. Confronting a rapidly changing business environment, VW and Ford this year said they'll join forces to build pickup trucks, delivery vans and possibly extend their venture to electric vehicles.
While demand in the U.S. will pick up by almost 30 percent, sales in China, where Anhui Jianghuai Automobile Group Corp., BAIC Group unit Foton and Chongquing Changan Automobile Co. currently dominate, will more than double until then.
Competition to maintain access to increasingly emissions-restricted city centers -- Amsterdam, for example, will ban combustion cars from 2030 -- is already picking up. StreetScooter, a German startup that was sold to Deutsche Post AG in 2014, developed an no-frills, affordable van that turned into a surprise hit, irking both VW and Daimler, with Germany's mail carrier doubling capacity to 20,000 units annually. Daimler started sales of the battery eVito in 2017, with deliveries of an electric version of the larger Sprinter starting this year.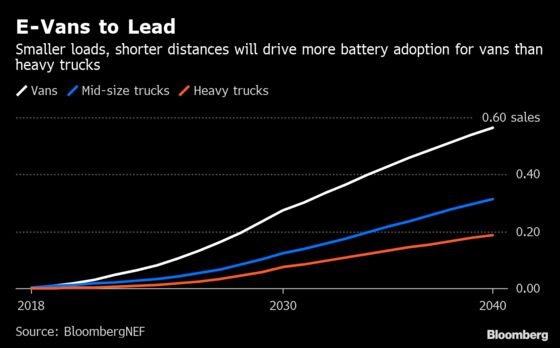 Ford joined last month Amazon.com Inc. investing $500 million in U.S. startup Rivian, which electrifies gas-guzzling trucks and sport utility vehicles. Ford will build a vehicle using the platform that Rivian founder R.J. Scaringe plans to share with several companies.
"There's a real possibility there for newcomers, even though it won't be easy to compete with the likes of Daimler," BloombergNEF analyst Nikolas Soulopoulos said. "There are niches where these new companies can grow into and then take on scale."
General Motors Co. is in talks to sell its idled Ohio car plant to Workhorse Group Inc., which makes plug-in pickups and electric delivery vans. Workhorse is among companies competing for a contract worth as much as $6.3 billion to supply next-generation mail trucks to the U.S. Postal Service. In the U.K., battery vans from Arrival Electric Vehicle have been trialled by UPS and Royal Mail.
Vans represent only a small part of business for Volkswagen, GM or Daimler, where unit sales made up 15 percent of the total last year. But returns can be lucrative, with Ford labeling its European vans division "highly profitable." The U.S. carmaker, which last year cornered 25 percent of light commercial vehicle sales in Europe, will offer the all-electric Transit from 2021.