Vail Says Slow Start to Ski Season Improved Slightly Through Holidays
(Bloomberg) -- Vail Resorts Inc. said the North American ski season is off to a slow start, confirming Wall Street fears. The shares were little changed as analysts took solace in the company maintaining its full-year outlook.
Poor early season conditions at two resorts -- Whistler Blackcomb in Canada and Stevens Pass in Washington state -- drove a decline in total skier visits of 7.8% compared to last year.
"Season to date snowfall at Whistler Blackcomb was 60% below the 30-year average through December 31," CEO Rob Katz said in a statement. That represents the lowest snowfall recorded in more than 30 years for the period, he added.
However, season to date lift ticket revenue is up slightly, and Vail reiterated its resort Ebitda forecast for fiscal 2020. The company noted the initial forecast incorporated the possibility of a slower start to the season and said conditions have improved at Whistler Blackcomb in recent weeks.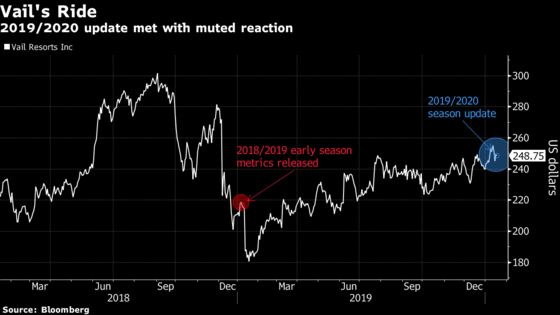 "We believe the reiteration of guidance reflects management's expectation that it will be able to recoup some of the lost early season business over the balance of the year," Stifel analyst Brad Boyer.
However, he doesn't expect investors to assign a high probability for Vail to meet or exceed the midpoint of its guidance range. Boyer said the midpoint will probably be lowered when Vail reports full results for the fiscal second quarter.
Trail openings tell the tale of improved conditions, Janney analyst Tyler Batory said. Whistler Blackcomb had 238 trails open as of Jan. 16, compared to 36 as of Dec. 21. "Coming out of the New Year, trail openings saw a strong ramp up and are back to normal levels," he said.
Jefferies analyst David Katz anticipates the company's actual results may stray from the high end of the reiterated resort Ebitda forecast range of $778 million to $818 million.
"Our impression is that the start to the year, in addition to near-term uncertainty in Australia, suggests the lower end of the range and limited probability of upside through the season," he said.