Sliding Equipment Orders Add to Growth Burden on U.S. Consumers
Two key measures of U.S. business investment posted declines that were worse than analysts expected in September, underscoring the burden on American consumers to carry growth in the second half.
Orders for non-military capital goods excluding aircraft fell 0.5% in September after a downwardly revised 0.6% drop the prior month, according to Commerce Department figures Thursday. Shipments of such equipment matched the biggest drop since 2016, also missing estimates.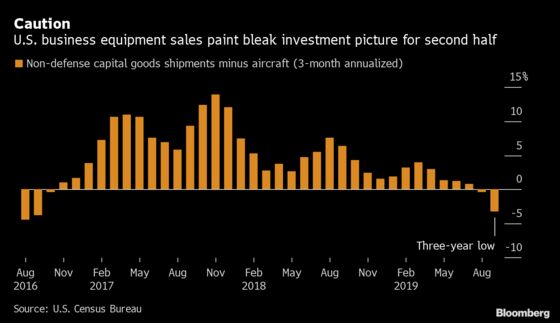 The sustained weakness in orders is the latest sign the dimmer global growth outlook and trade tensions with China are weighing on companies, with some analysts lowering estimates of third-quarter gross domestic product due next week. The figures add to signs of malaise in business investment and potentially bolsters the case for a third straight Federal Reserve interest-rate cut, a move that traders expect from policy makers Oct. 30.
Other data on Thursday indicated consumers are still healthy enough to keep spending and driving growth. The Labor Department said initial unemployment claims fell slightly to 212,000 in the week ended Oct. 19, indicating the labor market remains generally tight. Another government report showed sales of new homes last month stayed close to the strongest pace of the expansion while the Bloomberg Consumer Comfort Index's buying-climate gauge climbed to a fresh record.
While residential investment may have increased for the first time in six quarters and will help offset continued weakness in business spending, it's still a small portion of the economy, said Brett Ryan, senior U.S. economist at Deutsche Bank AG.
"At the end of the day you have only the consumer propping up the economy right now, and so if the consumer slows even a little bit more than what people expect, it can tip over into recession quickly," Ryan said.
Separately, a preliminary purchasing managers index from IHS Markit showed U.S. factory activity actually improved slightly in October for a second month though remained relatively subdued.
Still, factory weakness has been prominent in other recent reports. Manufacturing fell deeper into contraction last month, with a main gauge dropping to the lowest since 2009, while the Fed's measure of factory output declined by the most in five months. An autoworkers' strike at General Motors Co. was partly responsible for the decrease in September production.
The broader measure of bookings for all durable goods, or items meant to last at least three years, declined 1.1%, the most since May and also below forecasts in Bloomberg's survey. The headline durable-goods figure reflects weakness in transportation-equipment bookings, which dropped the most since May. Commercial aircraft orders declined almost 12% even as Boeing Co. said earlier this month it received 25 orders in September, an increase from August.
Shipments of non-defense capital goods excluding aircraft -- a measure used in GDP calculations -- fell 0.7%, more than forecast, after no change the prior month. The report showed the three-month annualized gain for business-equipment shipments declined, while it rose for orders, suggesting a potential stabilization for the pace of outgoing goods.
"There's a lot of uncertainty hanging over manufacturing and softness in the global economy," said Ryan Sweet, head of monetary-policy research at Moody's Analytics Inc. Even so, "this expansion can go on without a large contribution from manufacturing" given that it's a relatively small part of the economy, Sweet said.