Farmers and Traders Are Eager for Data as Government Reopens
(Bloomberg) -- Farmers, traders and investors are looking forward to a slew of data and services from the U.S. Department of Agriculture now that President Donald Trump has agreed to temporarily end the longest-ever U.S. government shutdown.
Trump agreed Friday to a deal after blow-back from the 35-day shutdown could be felt from airports to farms. The partial shutdown delayed a series of USDA data including the monthly World Agricultural Supply and Demand Estimates report that was scheduled for Jan. 11 and weekly export sales figures. The government is now slated to reopen for three weeks.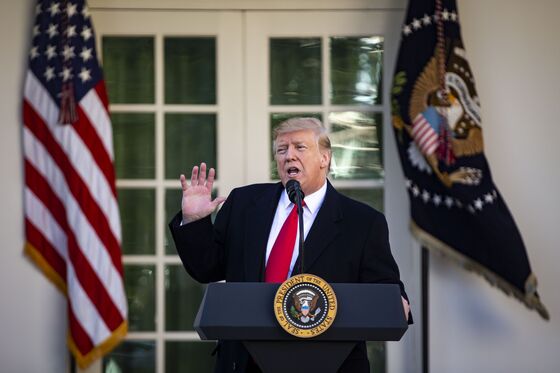 If the USDA reopens in the next day or two, the agency is expected to release its next supply and demand report on the scheduled date of Feb. 8, a department spokesperson said in an email Friday. Its annual outlook forum set for Feb. 21 and Feb. 22 will also be held as planned unless funding lapses. More details about other delayed reports will come out once all USDA staff returns to work.
"Obviously, it's a good thing," said Daniel J. Kowalski, vice president of knowledge exchange for agricultural lender CoBank ACB in Colorado. "We can start getting back to reports held back since December."
These reports should provide markets with critical data such as crop yields, inventories and exports. While the information is always important for farmers, grain handlers, traders and investors, it carries additional weight now given the U.S. is negotiating with China to end its months-long trade dispute.
"Farmers rely on export data from the USDA to make important decisions regarding their operations," Grant Kimberley, director of market development for the Iowa Soybean Association, said in an emailed statement Friday. "Access to this information is critical. We hope to see a more long-term resolution as we continue to await details regarding this temporary reopening."
Farmers also rely on a range of services including crop insurance, loans and more recently payments related to trade disruptions. While the USDA had announced last week that its Farm Service Agency offices would reopen to provide these functions, much of that was related to "catching up on backlog," said Will Rodger, a spokesman for the American Farm Bureau Federation. Now, farmers can once again come to the USDA for new business, he said.
"It's good news," Rodger said in a telephone interview on Friday.