Urban Outfitters Slumps After Holiday Store Sales Slump
(Bloomberg) -- Urban Outfitters Inc. sank by the most in seven weeks after it reported a disappointing holiday season, the latest clothing seller to miss after similar results Thursday from several other retailers.
The company's fourth-quarter gross margin will be pressured by "increased promotional activity" in apparel at its namesake store, as well as the Anthropologie banner, during the holiday period. "The weaker-than-anticipated margins came as a surprise with the consensus view being that URBN was the 'best house on a bad block' this holiday," Citigroup analyst Paul Lejuez wrote in a note. Urban Outfitters' update follows similarly disappointing holiday updates from retailers including Kohl's Corp., J.C. Penney Co. and L Brands Inc.
One analyst who called it correctly on Urban Outfitters, however, is Wedbush's Jen Redding, who cautioned clients earlier this weak about an "incrementally promotional atmosphere around key holiday selling weeks." Judging by the share-price decline of as much as 7.2% Friday, Citi's Lejuez appears right about the "consensus" view.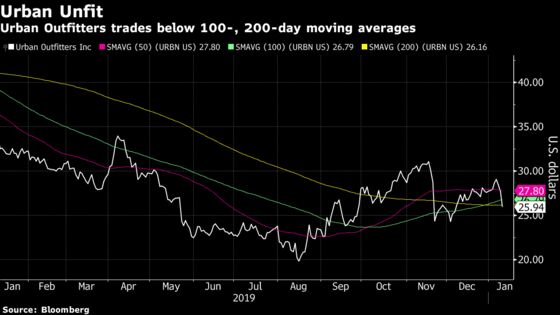 Jefferies analyst Janine Stichter wrote that the margin pressure, driven by elevated inventory levels, fashion misses in apparel, and higher deliver expense, was "not entirely unexpected." She reduced her estimates to below the consensus average recently and noted that the company was at risk of a negative pre-announcement amid a deceleration in the retro brand trend. Still, Stichter maintained her buy rating. "While we expect headwinds to linger near term, we continue to believe in the long-term story, and note that valuation remains inexpensive."
Meanwhile, if Redding's crystal ball on promotions is that good, investors should watch beaten-down Gap Inc. Her analysis of Wedbush's proprietary discounts tracker indicated that promotions over the key November and December selling weeks tracked favorably versus last year at the core Gap brand, and Old Navy was "roughly mixed." Taken together, she believes the data point to above-plan merchandise margin. Redding believes "better-than-expected holiday performance" will drive near-term share-price upside.
There is still more ahead in the holiday pre-announcement season. More than 200 consumer-oriented companies are expected to attend the ICR Conference in Orlando, Florida, early next week. Presentations start Monday, and a handful of other retailers are expected to pre-announce results ahead of their appearances. These include American Eagle Outfitters, Abercrombie & Fitch and Lululemon.
Here's some of what we've seen already:
Urban Outfitters Falls After Holiday Store Sales Slump, Shipping Costs Rise
J.C. Penney Shares Fall After Reporting Holiday Same-Store Sales
Foot Locker Checks Point to Holiday Shortfall, Susquehanna Says
Sportsman's Warehouse Cuts 4Q Adj EPS View, Misses Lowest Estimate
JCPenney Shares Fall After Reporting Holiday Same-Store Sales
L Brands Cuts 4Q EPS Forecast
Kohl's Now Sees Year Adj. EPS at Low End of Range; Shares Fall
Chico's FAS Raises 4Q Outlook, CFO Resigns
Macy's Better-Than-Expected Holiday Sales Boosts Retail Names
Pier 1 to Shut 450 Locations, Cut Jobs as 3Q Comp Sales Fall