Uranium Market's Aramco Unveils London IPO Despite Trump Threat
(Bloomberg) -- The initial public offering of the world's largest oil producer Saudi Aramco may be on the back burner, but the IPO of its uranium-market equivalent is full steam ahead.
Kazatomprom, the world's No. 1 producer of the nuclear fuel, on Monday said it would list as much as 25 percent of its equity in London and the Kazakh capital Astana.
The potential listing of a company that accounts for a fifth of global supplies of uranium offers a rare glimpse into a sector dominated by state-owned behemoths, from France's Orano to Russia's Rosatom Corp. Kazatomprom, owned by the Kazakh government, is listing as the first major IPO in a wave of planned privatizations.
"Largest uranium producer, largest reserve base, lowest unit cost and lowest environmental impact. So with that we're pretty confident we have a unique case," Kazatomprom Chief Executive Officer Galymzhan Pirmatov said in a Bloomberg Television interview on Monday.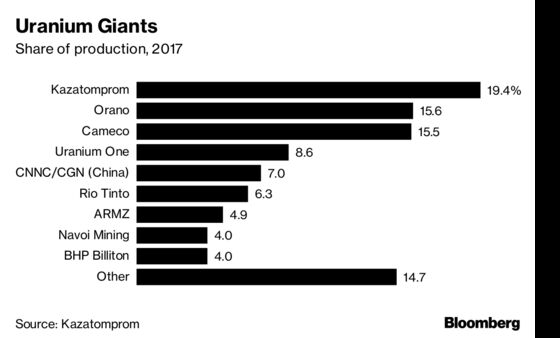 The company, whose assets date back to the dawn of the Soviet nuclear power industry in the 1950s, offered unprecedented insight into its business in a 689-page registration document ahead of the potential float.
"It's hugely meaningful for the industry," said Rob Crayfourd, a portfolio manager for uranium-focused fund Geiger Counter Ltd. "It makes the industry more transparent."
The picture isn't always a pretty one: the global uranium industry has been under intense pressure since the Fukushima disaster in 2011, which triggered a shift away from nuclear power around the world and a multi-year slump in uranium prices.
A key measure of Kazatomprom's earnings -- adjusted attributable earnings before interest, taxes, depreciation and amortization -- dropped 30 percent in 2017 and another 30 percent in the first half of this year.
What's more, uranium is the focus of a Trump administration probe that could see the tariffs already imposed on aluminum and steel imports extended to the nuclear fuel. Investor sentiment toward companies in the former Soviet Union is shaky amid expectations of further U.S. sanctions on Russia. Kazatomprom highlighted its relationship with Russia's Rosatom, which is not under sanctions, as a risk factor in its registration document.
"Even if tariffs are coming we do not expect any significant effects to our company," Pirmatov said. "Depending on what steps the government may take in the U.S., it obviously will affect the market."
Kazakhstan is a "strategic ally" of Washington, the CEO said, adding that less than 10 percent of the company's production is sold to the U.S.
Kazatomprom announced production cuts at the beginning and end of 2017 in an attempt to stop the rot. This summer, the company also agreed to sell more than a quarter of its 2018 output to a newly formed uranium investment vehicle, Yellow Cake Plc.
"In recent years we have pursued a much more market-centric strategy, shifting our focus from volume to value," said Pirmatov, a former head of Cameco Corp. in Kazakhstan.
The approach has helped spur a rally of more than 30 percent in uranium prices since a low point in April. Kazakhstan accounts for two-fifths of global uranium output.
The company had amassed more than 11,000 tons of uranium inventories as of the end of June. Still, it's planning to cut that stockpile by the end of this year, in part thanks to the Yellow Cake deal, and is targeting inventory levels of about half its annual output, or 6,000 to 7,000 tons, Pirmatov said.
Should Kazatomprom sell shares at a similar valuation to Cameco -- the Canadian group that's the only other major listed uranium miner -- it would be worth about $4 billion to $5 billion. That would value a 25 percent stake at about $1 billion. Still, while Kazatomprom produces more uranium than Cameco, it may be a struggle to achieve that valuation given concerns over emerging markets.
Pirmatov said there has already been "strong interest from a variety of players" to invest in the company. "There's been quite a bit of interest from investors to participate prior to IPO. We stayed away from that idea. In terms of cornerstone investors, let's see."
"This is a rare opportunity to buy into an unparalleled asset," said Kate Mallinson, a partner at Prism Political Risk Management Ltd. in London. Still, she noted there was "a chance that the listing will be moved to next year" amid lackluster appetite for investment in Russia and Kazakhstan and global equity market weakness.
Another risk is a $1.7 billion lawsuit from Canada's World Wide Minerals Ltd. against the Kazakh government over assets, some of which fall under Kazatomprom. While the suit isn't against the company, it warned in the registration document that the government "may elect to shift some or all of the financial burden of an adverse ruling" on to it.
Kazakhstan President Nursultan Nazarbayev urged IPOs for some of the Central Asian nation's largest state-owned companies in 2015 in what would be the biggest wave of privatizations since the 1990s. Fixed-line phone monopoly Kazakhtelecom and airline Air Astana are due to follow Kazatomprom, with other sales to include oil producer KazMunayGas National Co.