Upstart Pitches Plan for the Cheapest U.S. Natural Gas Exports
(Bloomberg) -- A little-known company is planning to be a standout in the crowded field of U.S. shale gas exports by slashing construction costs for the massive terminals that turn gas into a transportable liquid.
The founders of Venture Global LNG Inc. -– Bob Pender, a former energy lawyer, and Michael Sabel, who worked as a banker -- don't have previous experience developing projects to ship liquefied natural gas. Still, they plan to build a terminal made of small, standardized units costing about half less than existing plants.
The stakes are high: With global demand rising, Venture's project is one of about a dozen vying to join a second wave of terminals to export soaring U.S. gas production overseas. Venture's strategy is drawing interest, but analysts remain skeptical about the endgame, with rivals that include deep-pocketed oil majors like Exxon Mobil Corp.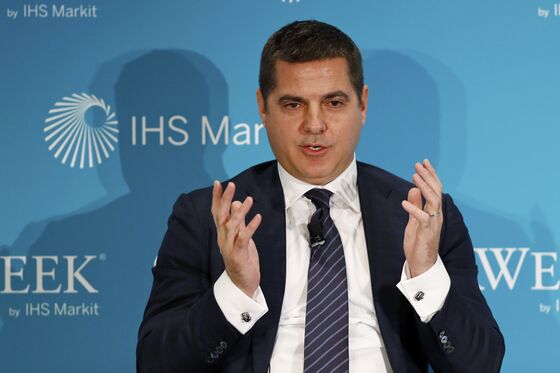 "We've done something extremely dramatic," Sabel said in a telephone interview. "We've figured out a way to change the configuration and dramatically lower the cost of a major segment of one of the most fundamental commodities in the world: energy."
Venture's Calcasieu Pass project in Louisiana is projected to cost about $5 billion, and produce 10 million tons a year of LNG, Sabel said. That compares with about $10 billion for 9 million tons from the first two units of Cheniere Energy Inc.'s Corpus Christi terminal in Texas.
Global LNG demand may expand by 6 percent annually through 2025, Fotis Giannakoulis, an analyst with Morgan Stanley, said in an interview. At the same time, he sees independent developers challenged in getting their projects built by lower prices for crude, the benchmark for most LNG sold globally, and by mega-projects such as the $10 billion Golden Pass terminal in Texas being planned by Exxon and Qatar Petroleum.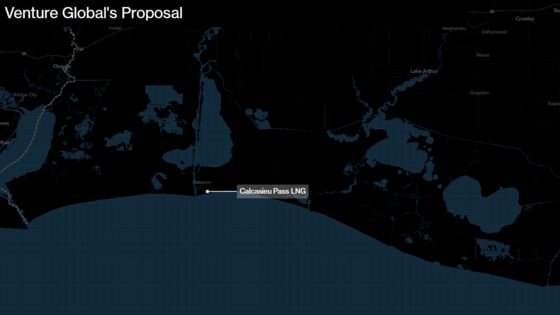 Venture Global may be offering its LNG contracts for about $2 per million British thermal units, given lower construction costs, according to Wood Mackenzie Ltd. and S&P Global Platts. That's at least 10 percent cheaper than supply offered by competitors like Cheniere Energy Inc.
"We believe we are offering the best liquefaction price in the U.S. market," said Sabel, who declined to disclose pricing for competitive reasons. "There's no question we are going to successfully finance in this market."
Venture Global is adopting Cheniere's model of earning fixed fees off of long-term contracts and then selling LNG based on Henry Hub, the U.S. benchmark.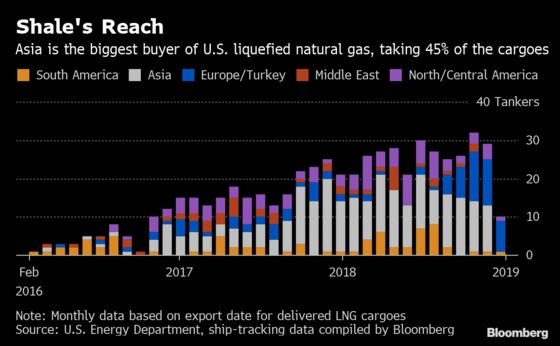 The company has already inked deals with buyers including Royal Dutch Shell Plc and Spain's Repsol SA. Analysts, though, say it remains unclear whether Venture Global can attract enough lenders and investors to back the project.
"They're taking a very aggressive and highly competitive approach, pushing the envelope of what engineers may think is possible," said Jason Feer, head of business intelligence at ship broker Poten & Partners Inc. in Houston. "They have to convince banks they can execute the project for the cost they're talking about."
Venture has raised more than $850 million so far, Sabel said, and secured 20-year contracts for 80 percent of Calcasieu Pass's export capacity with companies including Shell and BP Plc. "There's only one definition of success in this discussion," he added. "And that's who the market selects to buy their production capacity from.''
The LNG modules for Calcasieu Pass will be built by Baker Hughes at a facility in northern Italy and shipped to Louisiana. It's a process that will require fewer workers, compared with the typical onsite construction for similar projects: About 2,200 people will be needed to build the terminal, Sabel said, compared with roughly 9,000 for Golden Pass.
"It could certainly create a new model in the world of LNG," Alex Munton, principal analyst for Americas LNG at Wood Mackenzie in Houston, said by telephone. "They are trying something new and there are still some questions outstanding because we haven't seen this being done before."
While Venture Global has kept a relatively low profile compared with publicly traded rivals like Tellurian Inc. and NextDecade Corp., the developer has made significant progress toward getting Calcasieu Pass to the construction stage, Munton said. "They've been the surprise project over the last 12 months in terms of the progress they've made," he said. "They've gone about things in a quietly focused manner."
"It seems that there are buyers that have been willing to put their names behind these contracts," Morgan Stanley's Giannakoulis said. "Of course, all of these contracts are contingent to final investment decision so we will see when they will reach the final investment decision."
Before Venture Global can make a final investment decision on the project and begin construction, it needs approval from U.S. regulators. That's been no easy task: The company made an urgent plea last month to the Federal Energy Regulatory Commission to green light its proposal, which was tabled at a December meeting amid speculation about a partisan divide at the main agency tasked with permitting energy projects.
The company expects the setback to be short-lived, Sabel said. "Our understanding is the authorization order is ready," he added. "Everything in our view is ready to go and positive."
Venture Global will move forward with Calcasieu Pass as soon as the proposal receives FERC approval, Sabel said. But it remains to be seen whether the company can complete the terminal on time and within budget.
"People are waiting to see if they pull this off," Ira Joseph, head of gas and power at S&P Global Platts in New York, said by phone. "There is a healthy skepticism. You are talking about some very, very low per ton numbers."