UPS Turns to Pedal Power to Tackle Seattle's Congested Streets
(Bloomberg) -- United Parcel Service Inc. will try anything to deliver packages more efficiently -- even bicycles.
The company is testing motor-assisted cargo bikes in downtown Seattle to navigate in and around congested streets via bike lanes and sidewalks. The initiative has a nostalgic flair; the company was founded in the city more than a century ago with couriers making runs by bicycle, said Scott Phillippi, UPS's senior director of maintenance and engineering.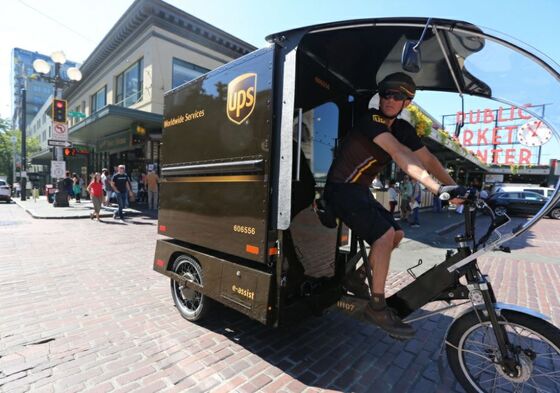 "It's exciting to return to our roots," he said in a statement Thursday. "The modular boxes and trailer allow us to expand our delivery capabilities and meet the unique needs of our Seattle customers."
The cargo bike, which can cart 400 pounds (180 kilograms), is one of several experiments by the Atlanta-based company with modes of transport, including drones and electric vehicles. UPS first tested eBikes -- which are powered by pedaling and assisted by a small electric motor -- six years ago in Hamburg, Germany.
The vehicle, developed with Silver Eagle Manufacturing, looks like a mountain bike in the front and is attached to what looks like a miniature UPS van on a two-wheeled trailer. The driver is protected by canopy and a windshield. The battery-powered motor will help the rider climb Seattle's hills.