UPS Falls Most in Four Years as Investors Shun Comeback Plan
(Bloomberg) -- United Parcel Service Inc. fell the most in four years after its chief executive officer said he's counting on the last half of 2019 to make up for winter weather and rising expansion costs that are hurting profit during the first six months.
Investors aren't convinced CEO David Abney will be able to pull off the comeback. Shares fell 8.7 percent to $104.35 at 10:44 a.m. in New York Thursday, after earlier falling 8.9 percent for the biggest intraday decline since Jan. 23, 2015.
"UPS remains a 'show-me' story," said Benjamin Hartford, an analyst at Robert W. Baird, in a note. The company hasn't yet demonstrated "tangible progress" in its $20 billion campaign to bolster efficiency and cut costs, Hartford said.
UPS needs to show results from its three-year plan to increase capacity, reduce costs through automation and bring on new aircraft to handle a surge from online retailing. Investors were skeptical of the hefty spending plan from the start, and shares have yet to recover to the level before the strategy was announced last year.
The company warned in a conference call that second-quarter adjusted earnings per share will be "relatively flat" compared with the $1.94 of a year earlier. That's below analysts' prediction of $2.02.
Nonetheless, Abney stood by his full-year forecast for earnings, reasoning that the early setbacks will be offset by accelerating profit as the strategy takes root. Profit will improve in the second half of the year as benefits kick in from opening or renovating 20 sorting facilities this year, he said. The company has also introduced new services to boost more-profitable deliveries from small businesses and the healthcare industry.
Despite winter storms that hobbled operations in the first quarter, "we had good performance," Abney said in an interview. "We are maintaining our guidance for the year, and that shows you we have confidence." The company said in January it expects 2019 profit of $7.45 to $7.75 a share.
That puts pressure on UPS to perform flawlessly during peak shipping season at the end of the year to meet the full-year earnings guidance, said Helane Becker, an analyst with Cowen, in a Thursday note.
"Management needs to produce strong peak results to achieve the higher end of the guidance range, which we are cautious about as investment spend continues to ramp," Becker said in a note to clients.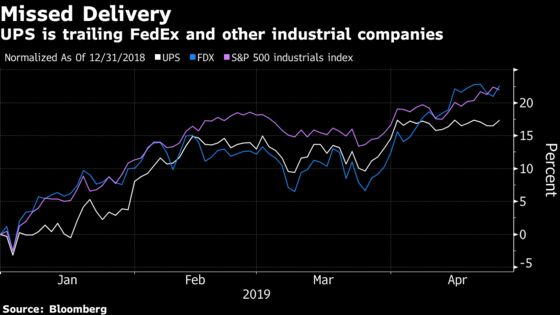 The U.S. transportation sector, from railroads to truckers, was socked by a polar vortex, a bomb cyclone and historic flooding that drove up costs while hurting demand for shipping in the first months of the year. That shaved 7 cents a share off profit, causing adjusted earnings to come in two cents below the $1.41 that Chief Financial Officer Richard Peretz forecast in March, the company said in a statement.
UPS had climbed 17 percent this year through Wednesday, trailing the 22 percent gain for an S&P 500 index of industrial stocks. The concerns over UPS carried over to its main rival FedEx Corp., which fell as much as 4.7 percent intraday Thursday.
Abney pointed to expanding profit margins in the first quarter in the company's international business and a 2.9 percent gain in revenue per package at the U.S. ground unit as signs the spending strategy is beginning to work, Abney said. The courier's international profit margin increased to 17.7 percent from 16.8 percent. Sales, discounting currency fluctuations, rose 1.2 percent despite a slowdown caused by trade disputes with China and concerns over the U.K. exiting the European Union.
Abney batted away concern that international markets are weakening substantially. China is still leading growth in Asia, he said. UPS put three 747-8 aircraft on routes from China to Germany because of increased business, he said.
"It's still in a growth mode, no doubt," he said.