UPS CEO Sees Wider Profit Margins in 2021 After 'Turning Point'
(Bloomberg) -- United Parcel Service Inc.'s profit jumped in the fourth quarter as a rush of online holiday shopping boosted package volume and enabled the courier to raise its prices.
The results marked a "turning point" for UPS's efforts to increase revenue faster than volume, Chief Executive Officer Carol Tome told analysts Tuesday after the company reported earnings. While UPS declined to venture a detailed financial forecast because of uncertainty from the coronavirus pandemic, profit margins will expand in 2021, Tome said.
UPS is expecting another strong year after record sales in 2020, as consumers continue to avoid stores in favor of e-commerce shipments to their homes. That's powering demand for the courier's ground deliveries while the air-freight operation is poised for growth as it ramps up global distribution of Covid-19 vaccines.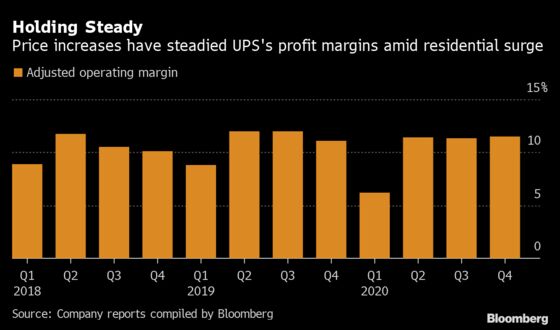 "These results will go a long way to re-energizing investors about the potential for meaningful profit improvement at UPS over the next several years under the leadership of its new CEO," Jack Atkins, an analyst with Stephens, said in a note to clients.
The shares rose 4.3% to $162.92 at 3:20 p.m. in New York. UPS surged 51% in the 12 months through Monday, easily outpacing the 16% gain of the S&P 500 Transportation Index.
UPS is benefiting from a capacity shortage in the parcel market of about 2 million packages a day this year, Tome said. The Atlanta-based company will boost sorting capacity by 130,000 packages an hour with the expansion of seven buildings this year and 11 new aircraft.
"We are planning to grow smartly," Tome said.
The capacity shortfall has enabled UPS to focus on increasing business from small-business customers, which are usually more profitable for the courier because they don't get big discounts like large shippers do. In the fourth quarter, volume from small and midsize companies rose more than 28% while business from large customers climbed only 4%.
UPS had one of its smoothest peak seasons last year despite soaring volume. The company flexed its pricing power by adding fees on large retailers while sometimes throttling back service for customers whose volume exceeded agreed-upon levels.
That helped UPS increase revenue per ground package by 7.8% even as it handled more residential deliveries, which are typically less profitable than drop-offs at businesses. Commercial shipments fell 8.3% in the quarter, and Tome said in an interview that she doesn't expect business demand to improve much this year.
While the domestic division's adjusted profit margin softened slightly to 8.8%, that was enough to beat Citigroup Inc.'s estimate of 7.2%.
"Collectively, we believe these results are a strong launching point for profit growth in 2021," Citigroup analyst Christian Wetherbee said.
The air-freight operation also increased prices and kept planes full amid last year's dearth of commercial flights, which often carry cargo as well as passengers. That pushed the unit's operating margin to more than 24%, which helped lift UPS's overall adjusted operating profit margin to 11.5% -- the highest since the third quarter of 2019.
Adjusted earnings climbed to $2.66 a share in the fourth quarter, topping the $2.15 average of analyst estimates compiled by Bloomberg. Total sales jumped 21% to $24.9 billion in the fourth quarter, while analysts expected $22.9 billion.
Revenue from Amazon rose to 13.3% of UPS's total sales last year, or about $11.3 billion. That's up from 11.6% of sales in 2019, or $8.6 billion.
Tome last week made her first big move to slim down UPS and focus on its core package business, reaching an agreement to sell the company's freight unit. The business was capital intensive and had low profit margins, she said. Outside of the company's core principles, "everything else is under review," Tome told analysts.
"With the disposition of UPS Freight, we will be smaller, but we will be better," she said. UPS is planning a June 9 meeting with investors to provide more detail about its plans to shore up margins.
She extended that theme with the earnings release, saying UPS will cut capital expenditures to $4 billion this year from an unadjusted $5.4 billion in 2020. The company spent more than $6 billion a year in 2018 and 2019 to increase automation and capacity.
The CEO, who took the reins in June, also said the company won't buy back shares this year and instead will pay down $2.5 billion of long-term debt when it comes due with a goal of strengthening the credit rating.
"We have ample room to allocate capital back into the business and back to the shareholders," Tome said. "We just want to make sure that we generate the right return on that."