Elon Musk Mocks SEC, Calls for Short-Selling to Be Made Illegal
(Bloomberg) -- Elon Musk insulted the Securities and Exchange Commission days after settling a fraud lawsuit with the U.S. agency, potentially imperiling a deal that allows him to remain Tesla Inc.'s chief executive officer.
In a tweet referring to the SEC as "Shortseller Enrichment Commission," Musk wrote sarcastically that the regulator was "doing incredible work." An agreement he reached with the agency Saturday -- which isn't final -- would bar him from serving as chairman for three years as punishment for problematic posts he sent about taking Tesla private.
Tesla shares dropped as much as 3.5 percent to $272 after the close of regular trading. Representatives for the Palo Alto, California-based company didn't respond to requests for comment. Ryan White, an SEC spokesman, declined to comment.
The post may test the boundaries of Musk's agreement not to deny wrongdoing and risk reviving stiffer forms of punishment. Last week, the SEC sought to prohibit him from serving as an officer of a public company. A federal judge still has to decide whether the penalties levied against the CEO are appropriate.
"At the very the least, they can read the riot act to Musk's lawyer," said Stephen Crimmins, a former SEC enforcement lawyer who's now a partner at Murphy & McGovern. "Beyond that, if they feel he hasn't lived up to his deal, they can theoretically seek to pull the settlement."
Tesla shares plunged 14 percent Friday on fears that the electric-car maker could lose its visionary CEO. On Monday -- after the settlement was reached -- the shares surged 17 percent.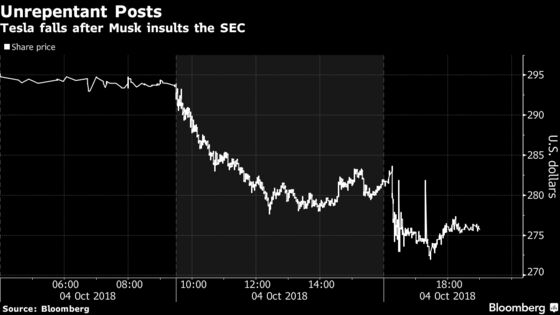 Musk, 47, agreed to step down as chairman within 45 days and be replaced with an independent director. The SEC also hit the billionaire and Tesla each with $20 million fines and is requiring that the board add two new members. The company also has to implement procedures and controls to oversee Musk's communications -- including his tweets -- and hire a securities counsel.
"Elon appears to be resistant to signing this agreement" said Gene Munster, a managing partner at venture capital firm Loup Ventures. "He wasn't vindicated, and it is needling at him. The fact that he's mocking the SEC begs the bigger question of where his head's at. Mission accomplished for the shorts."
A little more than an hour after his initial tweet about the SEC on Thursday, one follower wrote to Musk that he seemed to be working against Tesla investors. Musk responded, in part: "Hang in there."
Another Tesla bull, Gerber Kawasaki CEO Ross Gerber, was more blunt in expressing his disapproval of Musk's post.
"I'm shocked," said Charles Elson, director of the John L. Weinberg Center for Corporate Governance at the University of Delaware. "It's only inviting the SEC to rethink the settlement. And it's going to make it much tougher to attract independent directors to join the board."
U.S. District Judge Alison Nathan, who must approve the settlement, has given the SEC, Musk and Tesla until Oct. 11 to explain why the terms are fair and reasonable.
Musk's own posts weren't the only indication that he believes the agency's punishment was unjust. He "liked" another user's tweet on Thursday calling for the judge to "dismiss this frivolous attack and shame the SEC."
"Reading the mind of Elon Musk is beyond my ability, but he is soon to join the SEC in front of a federal judge to defend the recent settlement agreement," said Stephen Diamond, an associate professor of law at Santa Clara University, who specializes in corporate governance. "If he doesn't want to put that deal at risk, he ought to pay attention to cars instead of Twitter."
The SEC accused Musk in its Sept. 27 complaint of misleading investors with his infamous Aug. 7 tweets about having the investor support and "funding secured" to take Tesla private.
In court papers and at a news conference, the agency went to great lengths to spell out Musk's carelessness and erratic behavior, highlighting his threat earlier this year to "burn" investors betting against Tesla stock.
On Thursday, he wrote that they are "reasonably maligned" and called for short selling to be outlawed. The short interest in Tesla shares, though down from highs earlier this year, is equal to about 27 percent of the float.
The SEC also alleged that Musk rounded up the buyout price for Tesla to $420 a share to amuse his girlfriend at the time with a marijuana-culture reference.
Musk resumed his cryptic ways on Monday by tweeting out a music video by rap group Naughty by Nature for their 1991 hit song "O.P.P." This invited speculation he may have been referring to "operating profit positive," hours after Tesla wrapped up the end of a quarter in which he's predicted the company will post positive net income.
The tweet on Thursday was "plainly a statement that the SEC's case against Musk lacked merit," Crimmins said. "They may feel the need to ramp up the terms."