Unlike Xi, India's Modi Avoids U.S. Wrath Over Protest Crackdown
(Bloomberg) -- The U.S. has repeatedly blasted China's efforts to quell Hong Kong's unrest, passing legislation and issuing regular statements. By comparison, Indian Prime Minister Narendra Modi is getting off easy.
In mid-December, India shut off the internet and mobile phone networks in large swathes of the country, imposed curfews, and invoked a colonial era law in an effort to ban protests outright against legislation that discriminates against Muslims. Since then, some 26 people have been killed in clashes between protesters in police, many due to bullet wounds.
Those are harsher measures than Chinese President Xi Jinping and Hong Kong officials have taken despite increasingly violent protests since June. While Hong Kong's protesters have criticized authorities for excessive violence, the government hasn't stopped them from organizing online and no one has died directly due to police action. An anti-mask ban couldn't be enforced and was overturned by the courts.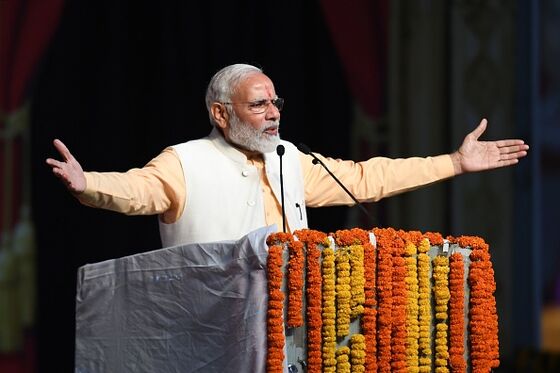 The U.S.'s comparatively muted response toward India's handling of the protests shows the nation's strategic importance in countering China, America's top rival in the Asia-Pacific region. But as Modi takes more steps that erode India's secular traditions to placate his Hindu nationalist base, it could start to become unpalatable for foreign companies to invest and for the U.S. to partner with his government.
"These incidents have raised questions of the government's broader ability to manage the fallout, both internal and external, of its Hindu nationalist policies and effectively de-escalate evolving law-and-order challenges in the country," said Steve Wilford, a partner for Asia at the consultancy Control Risks. "They risk depleting India's diplomatic capital among key allies, including the U.S., as well as strain ties with its neighbors."
Right now, U.S.-India relations appear strong. The U.S. has worked over the past few years to draw in India as a way to counterbalance China in Asia, which it has started calling "Indo-Pacific." The U.S., India, Australia and Japan recently revived a group known as the "Quad" to counter Chinese influence in the region.
After a call this week between President Donald Trump and Modi, statements from both governments didn't mention the protests. Last month, U.S. Secretary of State Michael Pompeo sidestepped questions on India's controversial citizenship law following a meeting between with Indian officials in Washington.
"We care deeply and always will about protecting minorities, protecting religious rights everywhere," Pompeo told reporters at a news conference in Washington on Dec. 19. "The United States will be consistent in the way that we respond to these issues, not only in India but all across the world."
That response contrasts with Pompeo's repeated criticisms of China. In October, he called the Communist Party "truly hostile" to the U.S. and accused it of "trampling the most basic human rights of its own citizens," including in Hong Kong. This week he decried China's "brutal treatment" of Muslim Uighurs in Xinjiang.
Last November, Trump signed the Hong Kong Human Rights and Democracy Act, which had overwhelming support from both parties. House Speaker Nancy Pelosi said the law sent an "unmistakable message" to Hong Kong's people that "we fully support their fight for their freedoms."
China and Hong Kong authorities have blasted the U.S. law and defended their handling of the protests, saying police were only taking action in response to violence by demonstrators throwing Molotov cocktails and vandalizing public transportation.
One reason for the differing U.S. responses is that India is a democracy, while Hong Kong is struggling to win the right for meaningful elections from authoritarian rulers in Beijing. Modi's Hindu nationalist government won a landslide in May elections, and the citizenship bill overwhelmingly passed in parliament. In Hong Kong, a legislature stacked with Beijing loyalists planned to push through a bill allowing extraditions to China against widespread popular opinion.
"Washington has been reluctant to publicly criticize India because, like it or not, what is being done is being done by a democratically elected government, accountable every five years to the Indian people -- that's not the case with Hong Kong," said Ian Hall, an international relations professor at Griffith University, who has written a book about Modi's foreign policy.
But India risks further blowback as Modi pushes initiatives that stoke tensions between Hindus and Muslims. The religion-based citizenship law came soon after Modi's administration stripped Muslim-majority Kashmir of autonomy. It also said it would make a regional register of citizens, which threatens to disenfranchise Muslims in India's northeast, into a national exercise.
India has tried to ban protests and ordered news channels not to broadcast content that "promotes anti-national behavior." One senior member from Modi's party called for "revenge," and police officers have charged into crowds and beat protesters with wooden sticks. Modi's government has vowed to investigate police abuses.
"In India, a more repressive and ham-fisted regime has shown every sign of buckling down on protests, rather than listening to the sentiments being expressed across the country," said Nikita Sud, an associate professor at the University of Oxford's international development department, who wrote a book about the politics of Modi's home state of Gujarat.
The unrest of the citizenship law of already caused international strain. Violent protests forced Japanese Prime Minister Shinzo Abe to cancel a state visit. Over the weekend, a mob rampaged through a university campus, prompting some high-profile members of Modi's cabinet -- including foreign minister Subrahmanyam Jaishankar -- to condemn the violence. Beijing even highlighted India's internet shutdown to justify its own censorship.
While the Trump administration has largely given Modi a pass, criticism is starting to grow in Congress. Pramila Jayapal, an Indian-American congresswoman from Washington, wrote last month that Jaishankar wouldn't attend a meeting with her present because she introduced a resolution calling on Modi's government to uphold basic human rights in Kashmir.
Modi's Hindu nationalist policies and harsh response to protesters risks creating an unending cycle of instability inside India that could be exploited by hostile countries, such as China and Pakistan, according to former Indian foreign secretary Shyam Saran.
"If political turmoil strikes at the heart of the Indian state, our national security will be threatened like never before," he wrote recently in India's Business Standard newspaper. "A divided country is an insecure country."