United Sinks as Airline Says It Can't Predict Rebound Timing
(Bloomberg) -- United Airlines Holdings Inc. sank after saying it couldn't predict when a demand rebound would improve results, a cautious outlook that contrasted with Delta Air Lines Inc.'s forecast last week that it would break even on a cash-flow basis in the second quarter.
This year will serve as a "transition" after the collapse in travel caused by the coronavirus pandemic, United said as it reported fourth-quarter earnings. While pent-up demand will spur more leisure bookings later this year, United declined to bet on a specific timetable.
"I know we've created a fair bit of angst amongst investors by not being willing to say that we think the inflection point on demand is right around the corner, 60 days away," Chief Executive Officer Scott Kirby said Thursday on a conference call with analysts. "And we hope it is, but as we said from the beginning, hope is not a strategy."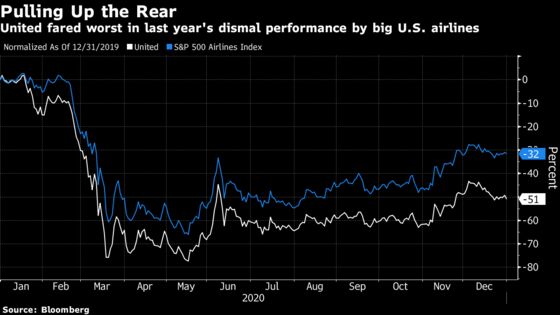 Kirby's caution underscored the risk for airlines in the coming months as the pandemic continues to gut travel demand. Delta stirred hopes of an imminent rebound by offering specific goal posts last week, reiterating its cash-flow outlook and telling investors that it had a "good shot" at turning a third-quarter profit as vaccines become more widely available.
United slid 5.2% to $42.83 at 2:33 p.m. in New York. That was the biggest drop by far among major U.S. airlines, which fell less sharply as President Joe Biden's administration said it planned to require air travelers to wear masks and would enforce quarantines for passengers arriving from other countries.
Instead of shorter-term markers, United touted its goal of topping pre-pandemic profit margins in 2023. The company will eventually look back on 2020 as a crisis that enabled executives "to structurally change the airline for the better," Kirby said.
"Whether we reach an inflection point in the spring, the summer or the fall, what we know is that a recovery is coming," he said.
In the fourth quarter, United swung to an adjusted loss of $7 a share, 35 cents worse than the average of analyst estimates compiled by Bloomberg. For all of 2020, United lost $27.57 a share, the largest shortfall in its 94-year history.
First-quarter operating revenue will fall as much as 70%, the company said, slightly worse than the drop of up to 65% that Delta projected. Looking ahead, United said it has identified $1.4 billion in permanent cost cuts, getting it more than halfway to its goal of $2 billion.
The Chicago-based company said customers are eager to travel as Covid-19 vaccine distribution expands. Consumers appear ready to research trips and travel later this year, said Chief Commercial Officer Andrew Nocella.
United expects leisure demand to rebound in the second half, spurred by vaccinations, while business traffic will take 18 to 24 months to recover, he said.
The airline is also counting on international profits to outpace domestic performance. Several carriers have culled large jets such as the Boeing Co. 747 and Airbus SE A380 from their schedules, and Norwegian Air Shuttle ASA has scuttled its long-haul network.
As a result, Nocella said, capacity is likely to lag demand in many international markets once vaccines become widespread and border restrictions ease.
"We do think there is a bunch of structural change there that will lead to stronger relative performance," he said. "And that should benefit United more than our competitors."