United Technologies Sinks as Breakup Leads to `Deal Purgatory'
(Bloomberg) -- United Technologies Corp. tumbled after the company said its long-awaited breakup plan would take as long as two years to complete and revealed weak cash flow from a record acquisition.
Investors will probably have to wait until 2020 for the conglomerate to spin off its elevator and climate-control divisions, dashing hopes for a speedier transition. United Technologies must also boost cash flow at Rockwell Collins now that the $23 billion purchase of the aerospace supplier is complete.
"This is sort of deal purgatory while you wait for the transaction to work its way through,'' Carter Copeland, an analyst with Melius Research, said Tuesday. "There are a lot of hedge-fund owners who probably say, 'Oh, this is what I was waiting for, and now I got it. And I'm not sure what my next catalyst is, so I'll move on."'
The share decline marred the unveiling of Chief Executive Officer Greg Hayes's plan to overhaul United Technologies. The world's largest supplier of aerospace parts announced the separation plan late Monday after months of pressure from activist investors Dan Loeb and Bill Ackman. Loeb, of Third Point, had said a breakup would unlock $20 billion in shareholder value.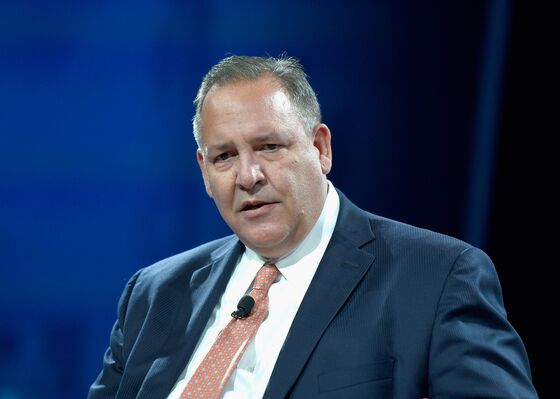 United Technologies sank 4.2 percent to $122.66 at 3:56 p.m. in New York after sliding 6.8 percent for the biggest intraday drop since July 2015. The shares were little changed this year through the close on Monday, leaving its market value at about $100 billion. A Standard & Poor's index of aerospace and defense companies fell 1.8 percent during the same period.
"The longer spin process may put United Technologies shares at risk of 'spin limbo,' " Barclays Plc analyst Julian Mitchell said in a note to investors. During the period between an announcement and the close of a spinoff, the last 13 industrial stocks to go through the process have underperformed the S&P 500 Index by 4 percent, he wrote.
The Collins Aerospace Systems division, formed from Rockwell Collins, will add $500 million to $750 million of free cash flow for United Technologies next year. Rockwell Collins trailed expectations for free cash flow in 2018, raising doubts about its ability to hit next year's targets, Copeland said. The company released its last annual report Monday.
"If you miss 2018 by that much, it calls into question the credibility of the targets for 2019,'' Copeland said. If Rockwell Collins still reported as an independent company, "the stock would be down massively," he said.
Collins burned through $567 million of cash in 2018, partly because of a large pension contribution, down from free cash flow of $1 billion in 2017, said Sheila Kahyaoglu, an analyst at Jefferies.
United Technologies Chief Financial Officer Akhil Johri said the miss doesn't bother him as much because of the "sizable" one-time payments made in the period to items such as the pension plan. Next year's free cash flow will probably be more than $1 billion after excluding items such as integration-related costs, said Johri.
"My confidence in 2019 is still very much intact," he said. "There's nothing fundamentally different about our expectations for the Collins business" next year, he said.
Hayes will continue as chairman and CEO of United Technologies following the tax-free separations of Otis and Carrier, which are expected to be completed in 18 to 24 months.
"These businesses will be even more successful as independent companies," Hayes said on a conference call with analysts and investors. "First and foremost, we believe that focused companies lead to improved operating discipline."
Hayes said in March that one-time separation costs would probably amount to between $2 billion and $3 billion with most of the expense coming from debt refinancing. He said Tuesday that the range would be at least $2.5 billion.
Loeb's Third Point earlier this year called Hayes's original estimates "surprisingly high." The New York hedge fund argued that United Technologies debt maturing between 2020 and 2027 could be refinanced at a cost of about $200 million. Other costs could be minimized as well, the fund said.
Third Point and Ackman's Pershing Square Capital Management declined to comment.
In pursuing a split, United Technologies will follow DowDuPont Inc., General Electric Co. and Honeywell International Inc. in busting up a diverse array of holdings.
Honeywell has spun off two low-growth businesses this year. DowDupont Inc., the result of a merger last year between two chemical giants, will split into three separate companies in 2019. GE is aggressively selling assets to tighten its focus amid a steep stock decline.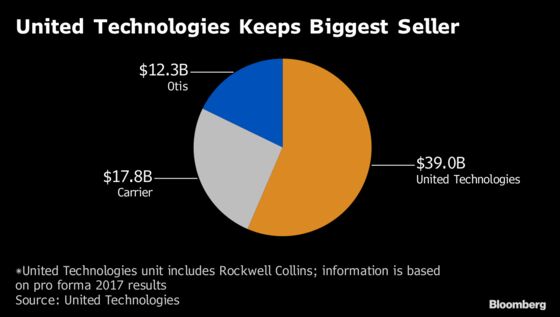 United Technologies will retain Collins Aerospace and Pratt & Whitney, which makes jet engines for such planes as the Airbus SE A320neo and Lockheed Martin Corp.'s F-35 fighter jet.
The combined aerospace operation would have had sales of $39 billion last year on a pro forma basis, according to a statement late Monday from Farmington, Connecticut-based United Technologies. Otis, which has more than two million elevators in use, had $12.3 billion in sales last year. Carrier had $17.8 billion.