United Technologies Raises Forecast as Aerospace Sales Climb
(Bloomberg) -- United Technologies Corp. raised its 2018 profit forecast as a robust aviation market lifted the supplier of jet engines and aircraft parts.
Adjusted profit will be $7.20 to $7.30 a share in 2018, the company said Tuesday in a statement, up from a previous outlook for $7.10 to $7.25. This is the third consecutive quarter United Technologies has nudged up its forecast.
The statement made little mention of the topic on many investors' minds: the status of the delayed Rockwell Collins Inc. deal. The $23 billion acquisition, which is awaiting approval from Chinese authorities, will be a focus during the 8:30 a.m. conference call.
While the aerospace megadeal drags on, United Technologies continues to capitalize on a growing aviation market. Sales at Pratt & Whitney, which is refining a new jet engine used on some Airbus SE planes, rose 24 percent.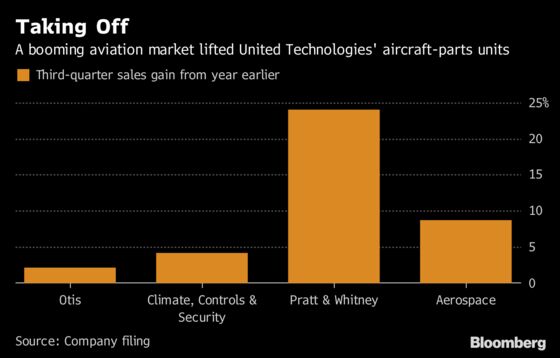 The Otis elevator unit boosted new equipment orders by 9 percent. Shareholders have been awaiting a turnaround in the business, which has been hampered by a slowdown in China, the world's largest elevator market.
The shares rose 1 percent to $127.61 in New York before regular trading, as global stock markets tumbled. United Technologies slid less than 1 percent this year through Monday, trailing the 6.1 percent advance of a Standard & Poor's index of aerospace and defense companies.
The performance helped push third-quarter adjusted earnings to $1.93 a share, topping the $1.82 average of analysts' estimates.
For additional detail click here.