United Technologies Sinks on Weak Collins Outlook, Breakup Cost
(Bloomberg) -- United Technologies Corp. tumbled the most in three years after the company underwhelmed investors with a weak cash-flow forecast from a record acquisition and a $3 billion price tag for a newly unveiled breakup plan.
The Collins Aerospace Systems division -- formed from the $23 billion purchase of Rockwell Collins that was completed this week -- will generate free cash flow of no more than $750 million next year, United Technologies said Tuesday. That trailed the almost $1.3 billion average of analyst estimates compiled by Bloomberg.
"That's a sizable difference," said Douglas Rothacker, an analyst at Bloomberg Intelligence. "Clearly there's some near-term cash flow pressure on Rockwell."
The disappointing outlook spoiled the debut of United Technologies Chief Executive Officer Greg Hayes's plan to split the conglomerate into three separate companies by spinning off its Otis Elevator business and Carrier climate-controls operation. United Technologies announced the breakup plan and the completion of the Rockwell Collins deal late Monday.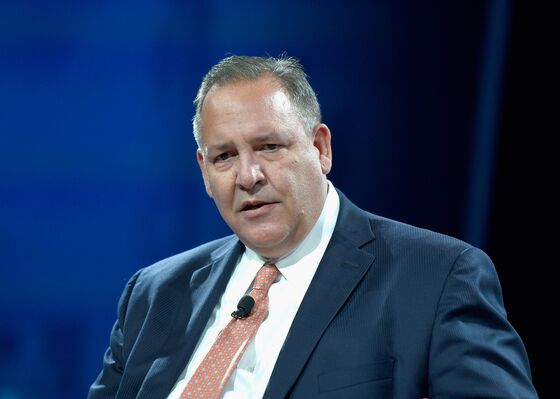 United Technologies tumbled 6.3 percent to $119.91 at 10:07 a.m. in New York after sliding as much as 6.8 percent for the biggest intraday drop since July 2015. The shares were little changed this year through the close on Monday, leaving its market value at about $100 billion. A Standard & Poor's index of aerospace and defense companies fell 1.8 percent during the same period.
Rockwell Collins also trailed expectations for free cash flow in 2018, said Carter Copeland, an analyst with Melius Research.
"If you miss 2018 by that much, it calls into question the credibility of the targets for 2019,'' Copeland said.
Hayes will continue as chairman and CEO of United Technologies following the tax-free separations of Otis and Carrier, which are expected to be completed in 18 to 24 months.
Barclays Plc had anticipated the breakup taking 18 months.
"The longer spin process may put United Technologies shares at risk of 'spin limbo,' " analyst Julian Mitchell said in a note to investors. During the period between an announcement and the close of a spinoff, the last 13 industrial stocks to go through the process have underperformed the S&P 500 Index by 4 percent, he wrote.
In pursuing a split, United Technologies will follow DowDuPont Inc., General Electric Co. and Honeywell International Inc. in busting up a diverse array of holdings.
Honeywell has spun off two low-growth businesses this year. DowDupont Inc., the result of a merger between two chemical giants, will split into three separate companies next year. GE is aggressively selling assets to tighten its focus amid a steep stock decline.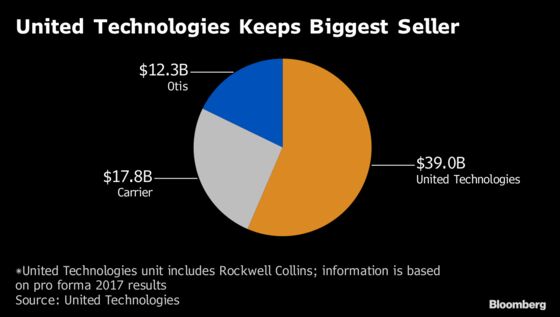 At United Technologies, the world's largest aerospace supplier, Collins Aerospace and Pratt & Whitney would have had sales of $39 billion last year on a pro forma basis, according to the statement. Otis, which has more than two million elevators in use, had $12.3 billion in sales last year. Carrier had $17.8 billion.
Until the transactions are completed, Farmington, Connecticut-based United Technologies will continue to pay its quarterly dividend of at least 73.5 cents a share.
Following the separation, the quarterly dividends paid by the three companies will initially total at least 73.5 cents a share. But "each company's dividend policy will be determined by its respective board of directors following the completion of the separation," according to the statement.
Evercore and Goldman Sachs are acting as financial advisers, United Technologies said. Wachtell, Lipton, Rosen & Katz is serving as legal adviser.