United Technologies Credit Rating Cut by S&P After Breakup Plan
(Bloomberg) -- United Technologies Corp.'s credit rating was cut by S&P Global Ratings after the maker of aircraft engines, climate-control equipment and elevators completed a $23 billion acquisition and announced it will split into three companies.
S&P lowered its long-term rating on United Technologies one notch to BBB+, or three levels above junk, citing the manufacturer's increased indebtedness after the purchase of Rockwell Collins and its plan to spin off non-aerospace businesses. The outlook is negative, S&P said in a statement Wednesday.
The rating could be cut again if United Technologies "can't meaningfully improve its credit measures to offset the upcoming loss of business diversity, or if it incurs substantially higher-than-expected separation costs, pressuring profitability," S&P said.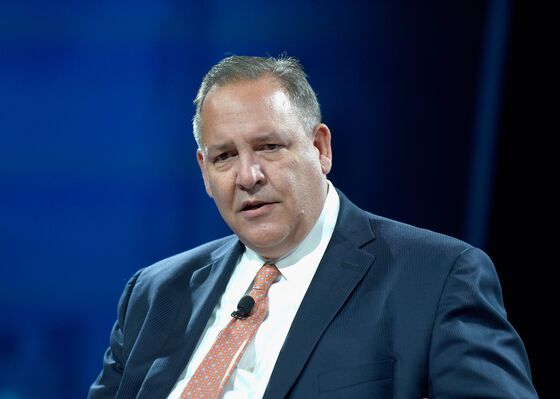 The ratings cut -- and the potential higher borrowing costs that come with it -- adds to pressure on United Technologies Chief Executive Officer Greg Hayes, who has said he expects the company and its spinoffs to retain investment-grade ratings. The purchase of Rockwell Collins, which makes cockpit controls and other parts, gave United Technologies enough ballast to stand alone in aerospace, enabling Hayes to separate the elevator and climate-controls units.
United Technologies' 4.125% senior unsecured notes due in 2028 were little changed following the S&P downgrade, trading at about 98 cents on the dollar, according to Trace, the bond-price reporting system of the Financial Industry Regulatory Authority.
The company's shares barely budged, closing at $122.73 in New York and missing out on a broader market rally. United Technologies fell 4.1 percent on Nov. 27 following the announcement of the spinoffs.
United Technologies levered up its balance sheet in August, offering $11 billion of senior unsecured bonds to help finance its acquisition of Rockwell Collins. Moody's Investors Service downgraded the company to Baa1, three steps above junk, from A3 following the acquisition announcement.