United Airlines Jumps as Earnings Blow Past Analysts' Estimates
(Bloomberg) -- United Continental Holdings Inc. surged more than 6 percent in early trading after crushing Wall Street earnings estimates and saying its financial momentum from last year will carry over into 2019.
Adjusted profit is set to increase again this year, United said in a statement late Tuesday, as the airline enters the second year of an aggressive expansion plan. Revenue for each seat flown a mile, a pricing-power gauge also known as unit revenue, will extend recent gains with a 3 percent increase this quarter, although a percentage point of that is at risk from the U.S. government shutdown, United said.
The Chicago-based carrier sounded its upbeat note after Delta Air Lines Inc. and American Airlines Group Inc. raised doubts earlier this month about their ability to push fares higher. United began a drive last year to win back market share at key airports, and the effort paid off as it surpassed Delta as the No. 2 U.S. carrier by traffic, trailing only American.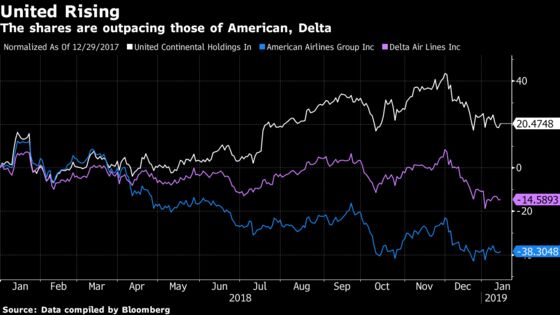 "Overall the guidance is encouraging as revenue growth continues into 2019 despite Easter moving to the second quarter and a weaker macro environment in certain international markets," Cowen & Co. analyst Helane Becker said in a note to clients. "The company did a great job executing their strategic plan in 2018."
The shares jumped 6.2 percent to $86.20 before the start of regular trading Wednesday in New York. United climbed 24 percent in 2018, the only advance among major U.S. carriers. Even after that advance, however, Delta remains the world's most valuable airline, with a market value of $32.8 billion. United trails in that measure by more than $10 billion.
United also disclosed orders for two dozen more Boeing Co. 737 Max single-aisle aircraft and four 777-300ER wide-body jetliners. Based on list prices, the deal would be valued at more than $4 billion depending on which variant of 737 Max the airline is taking, which United didn't specify. As of Sept. 30, United had firm orders for 154 Max aircraft, mostly for the largest Max 10 model.
United's adjusted fourth-quarter earnings rose to $2.41 a share, compared with the $2.05 average of analyst estimates compiled by Bloomberg. Sales increased 11 percent to $10.5 billion, compared with the $10.3 billion that Wall Street expected.
For last year as a whole, adjusted earnings rose to $9.13 a share, easily exceeding the $8.78 average of analyst estimates. This year, United said it expects to earn $10 to $12 a share, compared with analysts' forecast of $10.99. By 2020, the company has told investors it will earn as much as $13 a share.
To bolster profit, United began an ambitious three-year expansion program a year ago to regain what it considers its "natural share" of travelers at three mid-continent hubs: Chicago, Denver and Houston. United has reworked its flight schedules in Chicago and Houston and plans to begin flying its adjustments at Denver next month. The changes are designed to increase higher-yield connecting traffic.
Beyond its hub revamp, United has focused on improving schedule reliability, as well as customer-service training for flight attendants and other employees who interact with travelers. United also moved to a redesigned revenue-management system last year, which has improved the airline's ability to forecast seat demand and boost profits.
United said its first-quarter seating capacity would climb as much as 6 percent, in line with the long-term growth goals it unveiled a year ago.
For unit revenue, Delta forecast a first-quarter gain of no more than 2 percent, including the impact of the government shutdown. American is expected to issue its outlook when it reports earnings next week.
The closing of large swaths of the federal government is exacerbating fears of weaker U.S. economic growth this year, putting airline earnings at risk. United has a hub at Washington-Dulles, the capital's main international airport. The government's partial shutdown costs $50 million per day in direct domestic travel spending, the U.S. Travel Association said in a blog post last week.