United Air Sells Low During Virus Era After Years of Buying High
(Bloomberg) -- United Airlines Holdings Inc.'s equity offering at $26.50 a share stands in stark contrast to how much the company paid to buy back its own stock over the past decade.
Not since the first quarter of 2013 has United repurchased shares at an average cost below this week's offering price. The carrier paid an average of $25.15 a share during that quarter. By late 2019, the company was paying as much as $88.95 a share. United has spent $8.7 billion since 2010 on buybacks.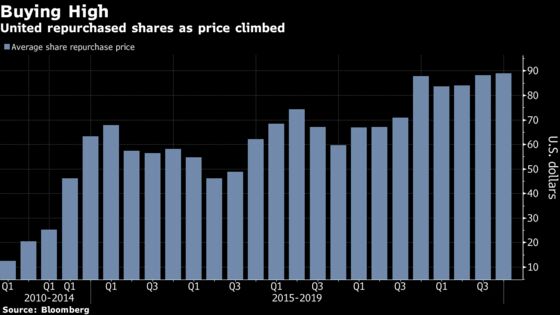 The equity dilution from this week's deal spurred a 7.2% share decline on Wednesday. That brought United's tumble this year to 71%, the most on a Standard & Poor's index of major U.S. airlines. United climbed 2.1% to $26.42 at 12:34 p.m. in New York.
ECM Watch: United Airlines Offering Set Year's Steepest Discount
The Chicago-based company has been aggressively shoring up its capital base since early March to help weather the coronavirus pandemic. As part of that effort, United is collecting about $5 billion in taxpayer-funded grants and loans to cover its payroll costs through Sept. 30. United will give the U.S. Treasury Department warrants to purchase as much as 4.6 million shares at a strike price of $31.50 a share.
Thus, in one sense, people buying United shares today are getting a better deal than the government.