United Air Meets 2020 Profit Goal Early, Keeps Earnings Outlook
(Bloomberg) -- United Airlines Holdings Inc. declared an early victory on its 2020 profit goal, handing a steady keel to President Scott Kirby as he prepares to take over as chief executive officer in four months.
Adjusted earnings climbed to $12.05 a share in 2019, United said in a statement Tuesday, achieving a longstanding target that the company initially set for this year. Two years ago, Kirby and CEO Oscar Munoz set the 2020 goal of earning between $11 and $13 a share as a key test of their turnaround effort.
United said it's benefiting from robust travel demand carrying over from last year, helping the airline contend with cost pressures from higher-than-expected fuel prices and the continued grounding of Boeing Co.'s 737 Max. The plan set forth by Kirby and Munoz in early 2018 called for aggressive growth to boost connecting traffic and profitability at United hubs in Chicago, Houston and Denver.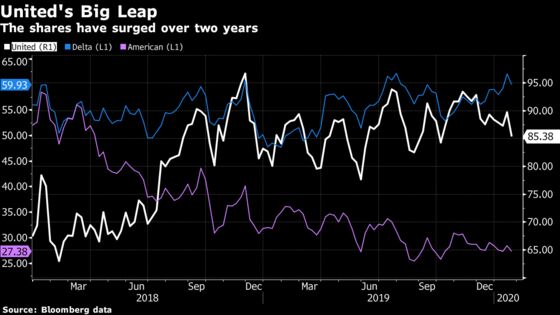 United shares were little changed at $86 after the close of trading in New York. The stock has slumped 2.6% this year, compared with a 0.6% decline for an index of five major U.S. airlines.
The airline forecast adjusted first-quarter profit of 75 cents to $1.25 a share, compared with the 75-cent average of analyst estimates compiled by Bloomberg. Revenue for each seat flown a mile, a closely watched gauge of pricing power, will be flat to up 2%, comparable to the outlook Delta Air Lines Inc. mapped out last week.
United said it will target 2020 expansion at 4% to 6%, assuming the grounded 737 Max returns to service this year. That's similar to the airline's growth the past two years.
The Chicago-based airline, which had 14 Max when the jet was grounded in March after two fatal crashes, has removed the plane from its schedule through early June 2020.
United paid an average of $2.10 a gallon for jet fuel in the quarter, above the high end of its internal forecast. The unexpected increase pressured overall costs, and was a stark reversal from the previous quarter when United paid 10 cents less than it had anticipated. The company predicted fuel costs of $2.04 to $2.14 a gallon this quarter.
Adjusted earnings rose to $2.67 a share in the fourth quarter, in line with the average of 17 analysts' estimates compiled by Bloomberg. Sales climbed to $10.88 billion, also in line with estimates.
Excluding fuel, United said its cost for each seat flown a mile will rise no more than 2% in the first three months of 2020 after jumping 2.7% in the fourth quarter.
The return of the 737 Max is expected to help ease costs for the U.S. airlines that fly it, although analysts have expressed concerns that the end of the flying ban may also spur an increase in seats and thereby hurt fares.
Boeing is telling customers it expects the Max to be cleared to fly again around midyear.