United Jumps Most Since July on Fare Power, Pacing Airline Rally
(Bloomberg) -- United Continental Holdings Inc. is sending Wall Street a clear message with its latest earnings report: Stop fretting, our domestic growth plan is working.
Investors responded by pushing up the airline by the most in three months.
Booming travel demand is enabling United to raise fares even as it beefs up flights at major hubs. That's validating its aggressive expansion plan while allaying worries that the growth push would erode ticket prices. United also is making progress in enhancing premium offerings and wooing budget travelers with cheaper "basic economy" fares that offer fewer amenities.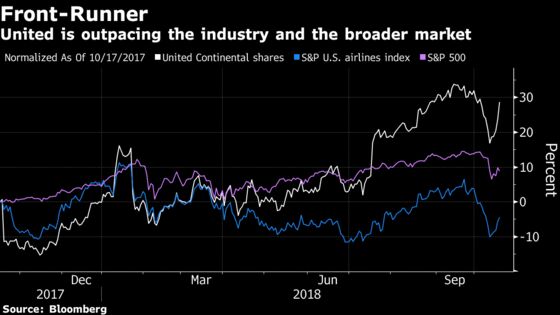 The airline's string of positive results "appears supportive of the elevated growth strategy in contrast to our fears," Raymond James Financial Inc. analyst Savanthi Syth wrote Wednesday in a note to clients.
United climbed 6 percent to $88.54 at 2:18 p.m. in New York after surging as much as 7.1 percent for the most intraday since July 18. The advance, the biggest on the S&P 500 Index, led a rally of airline stocks. United's 24 percent gain this year through Tuesday was the best performance on a Standard & Poor's index of nine U.S. carriers.
"We're struggling to find things to complain about, despite our most cantankerous efforts," said Jamie Baker, an analyst at JPMorgan Chase & Co., echoing a similar tone to what he said after the second-quarter report in July.
United's robust results mirror a report last week from Delta Air Lines Inc. and suggest that Americans, particularly lucrative business travelers, remain eager to fly. Rising demand for trans-Atlantic travel and the U.S. market are driving the higher profits for both carriers.
Earnings this year will be between $8 and $8.75 a share, United said in a statement after the close of regular trading Tuesday. At the midpoint, that represented an increase of 37.5 cents from the previous forecast of $7.25 to $8.75. The carrier improved its outlook after pushing all of the extra costs from higher jet-fuel prices onto passengers during the summer.
By 2020, United has told investors to expect earnings of $11 to $13 a share.
"The growth plan is the means to the end for delivering on our commitments in 2020 and beyond and we're pleased to see it working so well so quickly," United President Scott Kirby told analysts Wednesday.
Adjusted third-quarter earnings rose to $3.06 a share, compared with the $3.10 average of analyst estimates compiled by Bloomberg. Tropical storms during the quarter reduced earnings by 7 cents a share.
Sales increased 11 percent to $11 billion, compared with the $10.9 billion expected by Wall Street.
In January, United announced an ambitious three-year expansion program to regain what it considers its "natural share" of travelers at three mid-continent hubs: Chicago, Denver and Houston. United has reworked its flight schedules in Chicago and Houston and plans to begin flying its adjustments at Denver in February. The changes are designed to increase higher-yield connecting traffic.
With United planning to increase flights and seats by as much as 6 percent a year, investors worried that so much growth would easily outstrip demand and undermine industry profits. Instead, fares have improved amid robust travel and slight cutbacks in 2018 expansion plans at United and other carriers.
The industry is poised for further gains in the last three months of the year. Revenue for each seat flown a mile, a measure of an airline's ability to raise fares, will climb 3 percent to 5 percent in the fourth quarter, United said, matching a Delta forecast from last week.
That would extend United's gains in the closely watched yardstick known as unit revenue, which climbed 6.1 percent at the Chicago-based carrier in the third quarter. If the revenue momentum continues into 2019, both Delta and United would be in a position to expand profit margins, potentially bolstering shares.
American Airlines Group Inc., the world's largest carrier, reports results Oct. 25.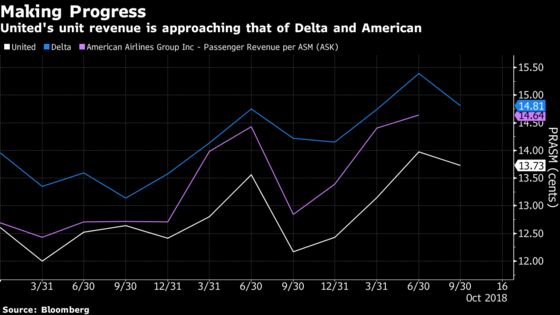 United expects to expand seating capacity as much as 6 percent in the fourth quarter, giving it a 2018 capacity increase of 4.9 percent. With positive results thus far, United plans to keep up growth in 2019 with new flying from its hubs into smaller markets. It's also withdrawing nonstop flights in some particularly competitive markets, such as Los Angeles to Dallas.