Airlines Gain as `Curmudgeonly' JPMorgan Warms to United Outlook
(Bloomberg) -- United Continental Holdings Inc. jumped the most in almost two years, carrying other airlines along for the ride after boosting its profit outlook and easing investor fears that rising seat supply would outstrip demand.
The stronger forecast "is the best evidence that our growth plan is working," Chief Executive Officer Oscar Munoz said on a conference call Wednesday. Adjusted earnings will be as much as $8.75 a share this year, 25 cents higher than before. By contrast, Delta Air Lines Inc. and American Airlines Group Inc. have pared their profit projections, citing cost pressures from pricier jet fuel.
United's rosier view suggests that it's gaining financial traction from efforts to bolster flights at its hubs, improve the computer system for pricing airfares and install plusher business-class seats. The No. 3 U.S. airline also took a step back from the high end of its target for expanding flights and seats this year, tapping the brakes on an aggressive growth plan that spooked industry investors when it was announced in January.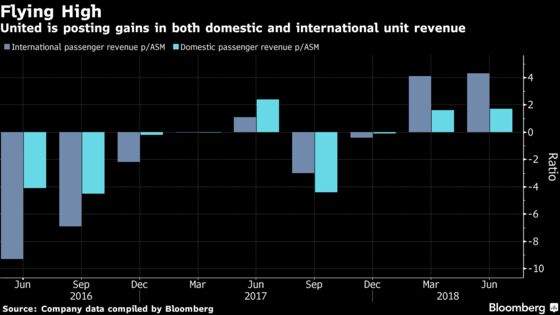 "For the first time in a long time, we're struggling to find things to complain about, despite our preference for the curmudgeonly," JPMorgan Chase & Co. analyst Jamie Baker wrote in a note to clients. The airline's outlook "is likely to satiate even the most demanding of bulls."
The shares advanced 7.5 percent to $78.05 at 11:16 a.m. in New York after surging as much as 8.3 percent, the most intraday since August 2016. A Standard & Poor's index of five major U.S. carriers jumped as much as 4.9 percent, the biggest intraday gain in six months.
United has also sought to improve its operations to reduce flight delays and cancellations, which helps to lure more corporate business. The carrier said its on-time departure rate in the April-June period was the best second-quarter performance since its 2010 merger.
For the year as a whole, United forecast adjusted earnings of $7.25 to $8.75 a share. Analysts had predicted $7.73. The company said its capacity would expand 4.5 percent to 5 percent. That's down from its forecast earlier this year of 4 percent to 6 percent.
"The midpoint of the capacity outlook has declined by 25 basis points, smallish but impactful, in our view," Baker wrote. He said that United's cut was more credible than a comment by Delta last week that it would keep a lid on growth.
United's earnings report, issued after the close of trading on Tuesday, suggests that the Chicago-based airline is enjoying firmer pricing than its rivals, especially on international itineraries where fares have been stronger than at home, said Susan Donofrio, an analyst at Macquarie Group Ltd. Routes to foreign destinations accounted for more than 49 percent of United's capacity last year, compared with 39 percent for American and 38 percent for Delta, according to Macquarie.
"Their pricing does look pretty solid," she said.
Revenue for each seat flown a mile increased 3 percent, the Chicago-based carrier said, at the upper end of its prediction of 1 percent to 3 percent. The figure, known as unit revenue, is closely followed by investors as a proxy for pricing power. For the third quarter, United expects the measure to climb 4 percent to 6 percent.
In the second quarter, adjusted earnings rose to $3.23 a share for the quarter, topping the $3.06 average of analyst estimates compiled by Bloomberg. Sales climbed 7.7 percent to $10.8 billion.
United's average fuel cost jumped 39 percent in the second quarter from a year earlier to $2.26 a gallon, and its jet-kerosene bill rose by more than $700 million. Spot prices for jet fuel in New York harbor were $2.09 a gallon on Tuesday, 43 percent higher than a year ago.
In the third quarter, United expects to pay as much as $2.32 a gallon.
Last week, Delta lowered its 2018 profit range by $1 a share because of higher fuel bills. That followed a cut by American in April. American further worried investors on July 11 with a financial outlook suggesting that airfares are weaker than expected this summer.
United's quarterly results included a special charge of $105 million to reflect a lower value for United's Brazilian routes following the May ratification of an Open Skies agreement between the country and the U.S. Airlines now have unrestricted access between the nations.