UniCredit Said to Tell ECB It May Create New German Holding
(Bloomberg) -- UniCredit SpA has told European Central Bank officials that it may create a German holding company to control part of its business, according to people with knowledge of the matter. The move could potentially reduce funding costs and help shield the Italian bank from any future crisis in its home country.
The plan, which hasn't been finalized, could be announced at the bank's Dec. 3 investor day, according to people with knowledge of the matter who asked not to be identified because the matter is private. UniCredit may move some or all of its non-Italian assets into the new holding, they said. One option is to later list as much as 30% of the new company, one of the people said. Other locations besides Germany are being considered, another person said.
UniCredit Chief Executive Officer Jean Pierre Mustier has emphasized the bank's international ambitions since he took over in 2016. After spending the first part of his tenure cleaning up bad loans, cutting jobs and strengthening the balance sheet, the CEO said he expects to accelerate the run down of non-essential business, adjust its holdings of Italian sovereign debt and improve its capital buffer.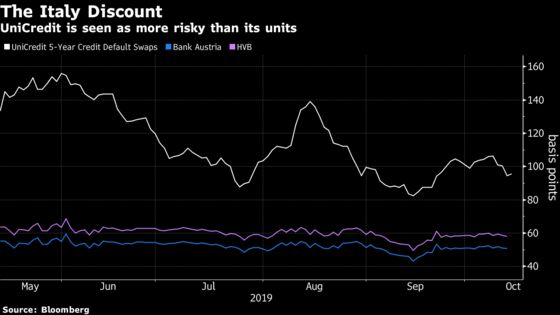 Putting assets in a new Germany-based unit may help UniCredit lower funding costs. It's credit default swaps, which track the perception of debt riskiness, indicate that borrowing is much cheaper for the Austrian and German units than they are for the parent company. The arrangement could also protect more assets from any potential political or economic crisis in Italy.
Mustier has repeatedly said that UniCredit will remain listed and headquartered in Milan. However he said last year that the bank will take more action to reduce exposure between the group's various units. UniCredit operates in 14 European countries, with large businesses in Germany and Austria as well as central and eastern Europe. The bank gets more than half of its revenue from outside Italy.
A UniCredit spokesman and an ECB spokeswoman declined to comment.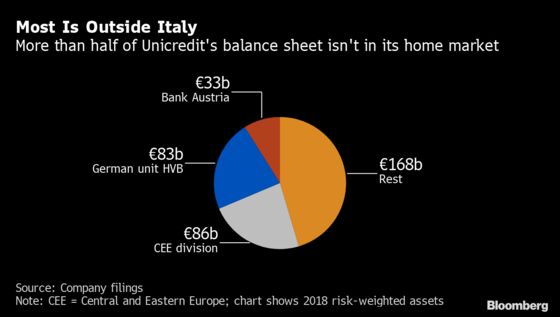 UniCredit owns Hypovereinsbank, one of the country's biggest lenders with 287 billion euros ($316 billion) of assets at the end of last year. The Italian bank has mostly failed to overcome resistance by regulators to use HVB's liquidity to support parts of the group outside Germany.
HVB was seen as key to a potential UniCredit bid for Commerzbank AG, Germany's second-biggest publicly traded lender. The Italian bank in May hired advisers for a possible deal, but the effort has since been put on ice, people familiar with the matter have said.
Several other banks, including UBS Group AG, Goldman Sachs Group Inc. and JPMorgan Chase & Co. have been shifting hundreds of billions of euros in assets to Germany as they prepare for Brexit and turn their Frankfurt-based subsidiaries into European hubs. The move is usually accompanied by an increase in the local workforce, partly because regulators want to be sure the additional assets are overseen by more staff, including risk managers.