UniCredit Takes Surprise $972 Million Charge; Cuts Forecasts
(Bloomberg) -- UniCredit SpA Chief Executive Officer Jean-Pierre Mustier's turnaround plans hit a last-minute hurdle after the bank cut key targets and took a charge related to its Turkish bank.
The lender surprised investors with an 850 million-euro ($972 million) charge to revalue Istanbul-based Yapi Kredi Bankasi AS and said it's increasing funds to cover a potential settlement related to U.S. sanctions over Iran. The Milan-based bank also lowered targets for revenue and a key measure of financial strength this year and next, while keeping its 2019 profit target intact.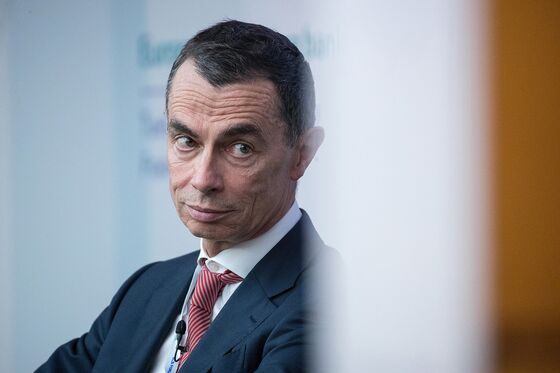 The charges are a setback to Mustier in the final stages of his turnaround of the Italian lender, focused on cleaning up soured loans, cutting jobs and strengthening capital. The Frenchman has pledged to build a leading pan-European lender and signaled he'll consider deals to boost growth once he's met key profit targets.
"After quite good news on Italian Banks this is the real first disappointment," said Jacopo Ceccatelli, chief executive officer of Marzotto SIM SpA, a Milan-based broker-dealer. "I would consider it a minor setback but not such to derail -- in itself-- the recovery trajectory of the bank. "
The shares declined as much as 4.6 percent in Milan and were trading 4.3 percent lower as of 1:18 p.m. The stock is down about 27 percent this year, with only Deutsche Bank AG and Commerzbank AG cheaper among Europe's largest banks on a price-to-book basis.
UniCredit's underlying performance appears on track: third-quarter operating profit rose 16 percent, boosted by commercial banking activities, while operating costs were down 8 percent.
UniCredit is writing down the value of Yapi Kredi after tensions with the U.S. and President Recep Tayyip Erdogan's criticism of the central bank's decisions to boost interest rates sent the lira into a tailspin. UniCredit bought a stake in Yapi Kredi with Koc Holding AS in 2005 and injected money into the lender earlier this year as part of a rights offer. Mustier said on Thursday said the bank would be willing to do so again if necessary.
Mustier in August played down the effects of the Turkish crisis on earnings, calling the impact of the lira moves "very small" and praising Yapi Kredi's performance. UniCredit is "in Turkey for the long term, going through cycles," he told analysts on an Aug. 7 conference call. Chairman Fabrizio Saccomanni reiterated the bank's commitment to Turkey a month later.
Mustier has set a target of 4.7 billion euros of annual net income in 2019. The lender is speeding up the reduction of its soured debt after he made cleaning up the balance sheet a pillar of his tenure.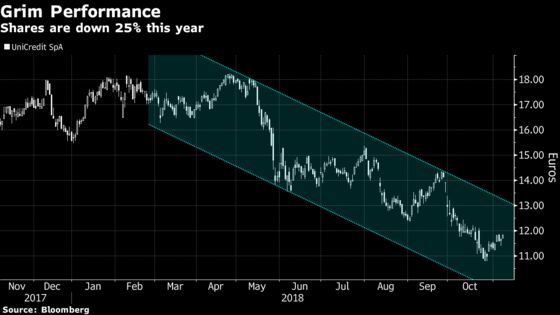 UniCredit's German unit was subpoeaned in March 2011 by the New York District Attorney's office over transactions with certain Iranian entities that were subject to U.S. sanctions. The HypoVereinsbank unit announced in August that it set aside 339 million euros in the first-half to cover possible fines, penalties and damages imposed by regulators.
Still, two years into a sweeping restructuring to cut costs and risks, UniCredit faces the same challenge as many of its European competitors -- how to boost revenue. In its plan announced on December 2016, the bank expected revenue to rise by just 0.6 percent per year through 2019.