UniCredit's Pain From Turkey Bank Mess May Just Be Starting
(Bloomberg) -- September has brought UniCredit SpA a temporary relief from Turkey's financial crisis. "Temporary" is the operative word.
Shares of Italy's biggest bank, which controls 41 percent of Istanbul-based lender Yapi ve Kredi Bankasi AS, are heading for the second-best month of the year. Default insurance premiums on UniCredit's debt fell for ten successive days through Monday. Bonds of Yapi Kredi are among this month's best performers in emerging markets.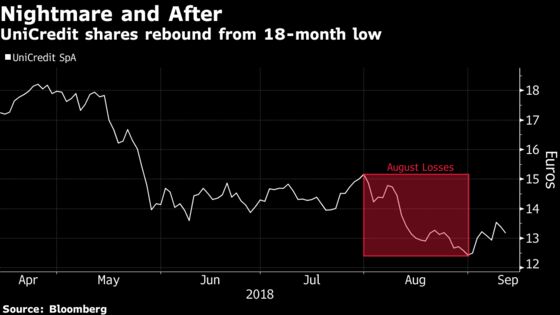 All that has eased the pain of August. A drop in UniCredit shares to an 18-month low and a surge in credit default swaps to the highest level since 2016 -- not to mention the worst emerging-market losses for Yapi Kredi's debt -- seem a distant memory.
But it's too soon to celebrate, according to Union Bancaire Privee UBP SA. Turkey's financial crisis will return in full force as a banking crisis and UniCredit will eventually see a swelling of its bad-loan book, said Ksenia Mishankina, a senior credit analyst at UBP in London.
"This rebound is temporary and the challenges remain," Mishankina said by phone. "The environment has become tough for Turkish debt issuers. Because of a wall of FX-denominated maturities, some corporates will start to default. And that will translate into non-performing loans for Turkish banks, and ultimately their owners."
While many Turkish banks are exposed to foreign-exchange volatility through their lending to the corporate sector, Yapi Kredi stands out because 35 percent of the bank's receivables are in construction, gas and water sectors, said Mishankina. The Turkish government will unveil measures to help banks tackle the expected pile-up of bad loans resulting from the lira's plunge and soaring interest rates, according to people with knowledge of the matter.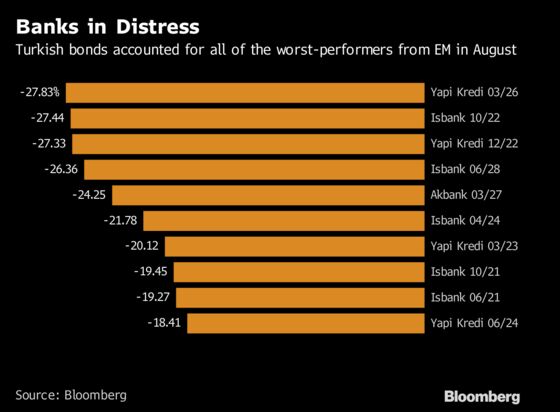 Yapi Kredi's bonds tumbled in August as investors bet the Turkish lender will be among the worst hit from a meltdown in the lira. The lender, in which a joint venture of UniCredit and Koc Holding AS owns almost 82 percent, has one of the lowest capital ratios and high exposure to real estate and energy sectors.
While UniCredit declined to comment specifically on the question of potential non-performing loan increases in Turkey, Chairman Fabrizio Saccomanni said the bank has a long-term approach to the country. Speaking during a panel discussion at the Bloomberg Capital Market Forum in Milan on Tuesday, he said the lender's Turkey unit "is profitable and the bank has a limited impact on UniCredit group. Our commitment is to remain there."
UniCredit shares in Milan dropped 0.2 percent.
The lira plunged 25 percent in August, falling seven months in a row. Turkish banks bore the brunt as the nation grappled with soaring inflation and a currency plunge after the U.S. imposed sanctions on its NATO ally for continued detention of an American pastor. Bonds of Yapi Kredi Bankasi AS maturing in March 2026 slumped 28 percent, trading in stressed territory, according to the Bloomberg Barclays corporate bond index.
The central bank raised interest rates by 625 basis points last week to stem the lira's depreciation and control inflation rate that rose to its 15-year high. The lira has dropped more than 3 percent against the dollar in the two days following the rate increase.
The key challenges to Turkish banks, according to UBP, are:
Large gross external financing needs, including sizable short-term corporate debt burden
Runaway inflation
Central-bank credibility problem
Turkey is in the late stages of a credit-driven boom when companies borrowed heavily in the dollar. As the time for repayment approaches, some borrowers won't be able to meet the liabilities. The resulting bad loans would first reflect in the balance sheets of Yapi Kredi and eventually find their way to UniCredit's books, Mishankina said.
"The increase of stage 2 loans reported during the second-quarter Yapi results is likely to lead to the deterioration in asset quality of UniCredit translating into an increased cost of risk of the latter."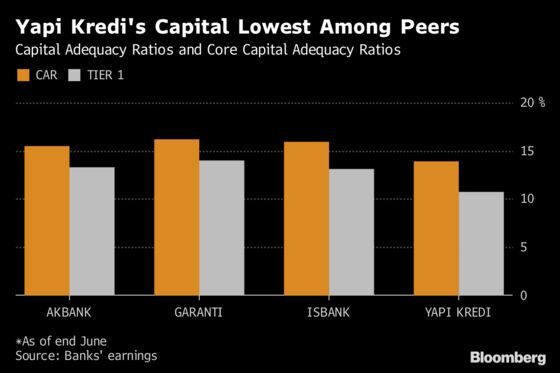 Corporate debt, at $520 billion, accounts for 60 percent of Turkey's gross domestic product, according to UBP's calculations. Of that, foreign-exchange borrowings total about $300 billion. Turkey also has short-term external FX debt of $180 billion, of which financial institutions account for about $110 billion. While short-term government liabilities are modest, the main challenge is the rollover risk of corporate maturities, Mishankina said.
Yapi Kredi Bank in Istanbul declined to comment for this story. Its 10.7 percent Tier 1 capital ratio compares with the sectoral average core capital adequacy ratio of 13 percent as of end-June, according to the banking regulator.
Every 10 percent decline in the lira reduces bank capital adequacy ratio by around 50 basis points on average, according to a Goldman Sachs report published on Aug. 6, which identified Yapi Kredi as the most vulnerable. The currency weakened 0.5 percent on Tuesday, paring its September gains to 3.1 percent.
Given the Turkish lender's vulnerability, any bounce bank in UniCredit's shares or credit perceptions is likely to be short-lived, Mishankina said.
"Fundamentally, nothing has changed," she said.