Undervalued Hexo Drawing Interest From Pot Rivals, Activist Says
(Bloomberg) -- Hexo Corp., which sped up the race for cannabis-infused beverages by partnering with Molson Coors Brewing Co. in August, is attracting interest from competitors after an activist investor publicly urged it to consider a sale.
Riposte Capital published a letter in September criticizing Hexo's "severely depressed valuation" despite its joint venture with Molson Coors and its supply contract with Quebec, estimated to be worth C$1 billion ($776 million). Riposte says it owns less than 5 percent of Hexo and is the second-largest shareholder at the company formerly known as The Hydropothecary Corp.
Since then, Riposte has heard from cannabis companies that have expressed interest in Hexo, Ryan Price, partner and director of research at the New York firm, said in an interview. Price declined to name the companies that have been sniffing around.
"We've received feedback from some companies that applauded our letter and in one case the CEO told us we were right on the money and he sent it to his board," Price said. "We think it did not fall on deaf ears and there is interest in the company. We don't have any knowledge of who's doing what but we think everyone is looking."
Riposte said Hexo responded in writing to a second letter this week, saying that the various options laid out by the investor, including selling at a premium and going private, have resonated with its board.
"The impression we get is that they are without a doubt seriously taking our suggestion and our recommendation," Khaled Beydoun, Riposte's managing partner, said in an interview. "We're going to be watching very closely on what they decide to do."
A Hexo spokeswoman declined to add to a statement the Gatineau, Quebec-based company released Sept. 7, in which Chief Executive Officer Sebastien St-Louis said there is no formal strategic review process taking place. Yet in a shift from past comments that the company's not for sale, St-Louis told BNN Bloomberg Television in a Sept. 6 interview that it was a matter of time before Hexo gets acquired.
"Whether that time frame is a year or 10 years, my job is to maximize value," he said.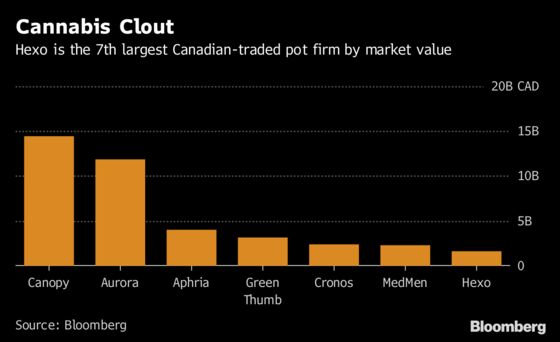 Pot stocks have soared since mid-August, when alcohol giant Constellation Brands Inc. said it would invest $3.8 billion in Canopy Growth Corp. The move sent most of Canopy's peers higher on the assumption that other alcohol, consumer products, tobacco and pharmaceutical companies would follow. The BI Canada Cannabis Competitive Peers index has gained almost 50 percent since then and Canopy has nearly doubled.
While Hexo shares have also gained about 95 percent since the Constellation announcement, its valuation still lags that of its peers. According to Riposte, Hexo is trading at about 13 times its enterprise value to forecast profit, compared with 26 times for the rest of the industry minus Tilray Inc., whose wild gains have distorted averages. Hexo's market capitalization of about C$1.56 billion is almost nine times less than Canopy's.
Beydoun called it a "huge mispricing" considering Hexo signed a five-year supply contract with the Quebec government, followed by the joint-venture agreement with Molson Coors.
Hexo has made other announcements since, including the joint purchase of a building in Ontario that will host its first facility outside of Quebec and a plan to establish operations in Greece. Canada is set to legalize recreational marijuana on Oct. 17.
According to Riposte, part of the reason behind Hexo's relatively lower valuation is its limited investors relations -- it doesn't hold earnings calls for instance, and it's only traded in Canada. St-Louis has said he will list shares in the U.S. by the end of the year.
"Our issue with Hexo is they have a lot of ambitions to grow" and will need capital for it, Beydoun said. "The problem is that it's very hard to get there when your multiple is half the sector's average."