Under-Wraps B-21 Bomber Is Seen Costing $203 Billion Into 2050s
(Bloomberg) -- The U.S. Air Force's next-generation B-21 stealth bomber program will likely cost taxpayers at least $203 billion to develop, purchase and operate 100 aircraft over 30 years, according to new service estimates.
The figure represents the most complete estimate to date for the heavily classified program won by Northrop Grumman Corp. in 2015. It's also an attempt by the Air Force to make good on a vow to help prevent sticker shock among lawmakers by providing more transparency on cost data as the secretive aircraft proceeds through development.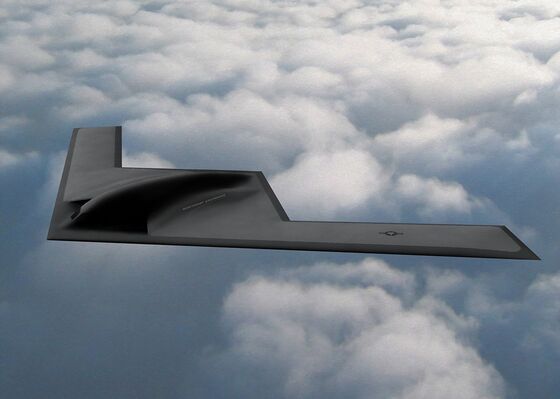 According to figures provided to Bloomberg News, the total cost, priced in fiscal year 2019 dollars, includes $25.1 billion for development, $64 billion for production, and $114 billion for 30 years of sustaining and operating a fleet of 100 bombers.
Those costs are part of a huge "bow wave" of spending facing the U.S. military -- and American taxpayers -- as the Pentagon seeks to upgrade the nation's land-sea-air triad of nuclear weapons and pay for weapons systems including new Ford-class aircraft carriers, Columbia-class submarines and nearly 2,500 F-35 jets for the Air Force, Navy and Marines.
The service had previously released B-21 development and production estimates but not its 30-year operations and support costs, which traditionally comprise as much as 70% of a program's life-cycle cost.
The $114 billion sustainment estimate is "used for planning purposes," Air Force acting acquisition chief Darlene Costello said in a statement.  The estimate "will become more mature when the program begins fielding aircraft and accumulating actual costs -- manpower, maintenance, modifications, flying hours, fuel consumption," she added. 
The bomber program is still in the engineering and manufacturing development phase and "remains on track to the government acquisition program baseline for cost, schedule and performance," Costello said.
Representative Adam Smith of Washington State, chairman of the House Armed Services Committee and a frequent skeptic of Pentagon acquisition programs, said in April that the program is "on time, on budget, and they're making it work in a very intelligent way." 
Air Force Secretary Frank Kendall, during an interview last week, said "you need to take your time and effort during the design phase to try to design for lower sustainment cost." One of the reasons "that our development programs take a little longer than people would like is that we need to pay attention to things like that and you'll get a better product out."
Kendall in September announced that five B-21s were in production.
"It's not a cheap airplane. It's an important capability that we need and we will budget what we need to sustain the fleet," he said. 
Even as Air Force secretary, Kendall is barred from having significant participation in the program because of a previous consulting relationship with Falls Church, Virginia-based Northrop.
The service says that the B-21's average procurement price per unit -- the most common measurement of how much it costs to build a jet -- has remained within its $550-million-apiece goal, measured in fiscal 2010 dollars. If adjusted for inflation, the equivalent is about $639 million in 2019 dollars, the service said.
Still, "details such as the B-21's size, required stealth, structure, number and type of engines, projected weapons and onboard sensors remain classified, which makes evaluating the proposed cost difficult," said the Congressional Research Service in a September report.
The service is hoping to avoid the mistakes of its B-2 public rollout in the late 1980s. Its development program was started in 1981 and approved by the Pentagon in 1987 for procurement concurrently with development and testing. Yet, it was only in April 1989 that the Air Force disclosed in public testimony that it had spent $22.4 billion on B-2 development. Per-plane estimates for the 132 planes planned were as high as $600 million.
The sticker shock resulted in some unlikely congressional alliances to curtail the program, with Representative John Kasich, a Republican from Ohio, joining Ron Dellums, a Democrat and self-described socialist from California.
Citing the end of the Cold War and cost concerns, then-Defense Secretary Dick Cheney cut the B-2 from 132 bombers to 75 in early 1990. Cheney, the future vice president, later trimmed it to just 20; Congress added one later, resulting in the 21 planes eventually built.