Under Armour Rises as Strong Profits Outweigh Revenue Warning
(Bloomberg) -- Athletic-gear maker Under Armour Inc. made headway on its turnaround in the fourth quarter, and investors shrugged off a first-quarter revenue warning.
Adjusted fourth-quarter earnings amounted to 9 cents a share, excluding some items. That beat the 4 cents analysts were projecting. Sales edged out projections.
On a conference call, the company said first-quarter revenue would be "flat to slightly down" on a decline in North America and a modest international increase. That would miss analysts' estimate of a 2 percent gain in overall sales.
Inventory shrank 12 percent to $1 billion last quarter, its lowest in almost two years. That's a critical measure in Under Armour's restructuring. The company has eliminated underperforming products and overhauled how items are brought to market -- an effort to gain a better grasp on what will sell and at what price point.
Gross margin, which tumbled in the beginning of 2018, continued to expand, another sign that Under Armour is achieving its goal of tightening expenses and selling more product without discounting prices. However, the company said its first-quarter margin would rise less than analysts had expected.
It's the second straight quarter of positive earnings for Under Armour and comes as executives have said the restructuring should be paying off. Founder and Chief Executive Officer Kevin Plank said during the sporting-goods maker's December investor day that it was entering the third year of a "three-year transformation of our business."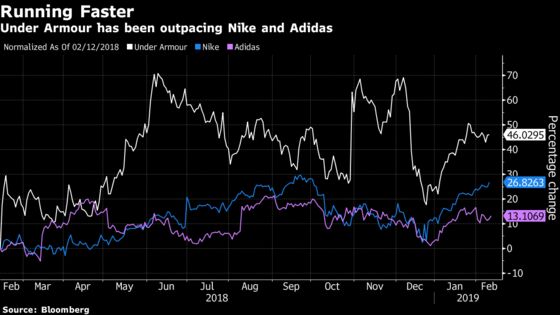 Under Armour shares jumped as much as 7.4 percent, the most since October, to $22.32 in New York. They earlier fell as much as 5 percent, the most since December. The stock had risen 18 percent this year through Monday's close.
See more details.
Read the statement.
See Wall Street estimates.