Ukraine Says Contested Gas Pipeline Raises Russian War Risk
(Bloomberg) -- Ukraine's government said a controversial pipeline which will double the amount of natural gas flowing directly to Germany from Russia increases the possibility of war breaking out.
The new warning about the Nord Stream 2 pipeline follows a flare-up in tensions between Ukraine and Russia after a naval clash near Crimea earlier this week. Completion of the project could make Ukraine's gas transmission system redundant for Europe, reducing the nation's strategic importance and making it easier for Russia to launch an invasion, according to Deputy Minister of Foreign Affairs Olena Zerkal.
"The link between supply of gas and eventual aggression is clear," Zerkal said. "Our gas infrastructure is like a wall. And if they won't need it? What can prevent them from invading?"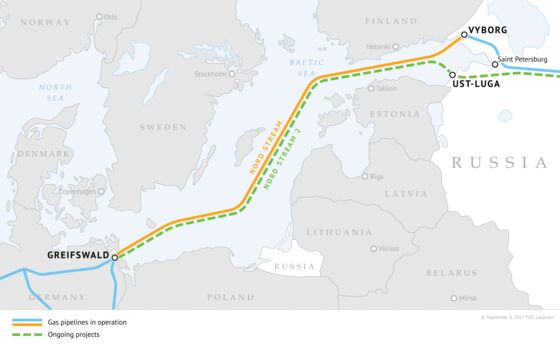 The $11 billion Nord Stream 2 pipeline is one of several Russian projects that circumvents Ukraine in order to give the world's No. 1 gas producer direct access to its biggest markets. Russia has also been raising liquefied natural gas output and building a southern pipeline transiting the Black Sea. Ukraine has warned repeatedly that it risks losing billions in transit fees from the projects.
German Chancellor Angela Merkel said on Thursday at the German-Ukrainian business forum in Berlin that Nord Stream 2 makes Ukraine "strategically more vulnerable," though it "remains an important transit country" for Russian gas.
Gazprom has reiterated that Nord Stream 2 is being built to complement, not replace, existing gas supply options. Project financiers including Austria's OMV AG say that anticipated growth of Europe's gas market will need new transit routes to complement existing channels.
The U.S. has threatened to impose sanctions on European companies over Nord Stream 2 and voiced its opposition to the so-called TurkStream pipeline traversing the Black Sea.
The willingness of European companies to expand business in Russia is a source of grave concern in Ukraine, where President Petro Poroshenko installed martial law in some regions this week. On Friday Ukraine tightened control over its border, imposing new entry restrictions for foreigners and banning Russian men from entering.
"We are weaker from the military point of view than Russia," Zerkal said. "Western Europe and most of its neighbors are protected" by the North Atlantic Treaty Organization. "We only have this gas transportation system," she said.
Putting a stop to Nord Stream 2 could flow through Merkel, who has defended it so far, according to a Bloomberg Intelligence note published Friday, which said the project is also facing delays from regulators in Denmark.
"Merkel's support for the project could waiver, particularly if tensions between Russia and the Ukraine were to escalate," BI analysts wrote. "If Merkel were to withdraw her support for the project, it could clear the way for broader EU scrutiny and possible sanctions."