Ukraine Prosecutor Made Up Biden Claim, Kiev Lawmaker Says
(Bloomberg) -- A Ukrainian lawmaker accused his country's top prosecutor of manufacturing a "conspiracy" about U.S. Democratic presidential candidate Joe Biden, adding to a political intrigue playing out from Kiev to Washington.
The lawmaker, Serhiy Leshchenko, said he had been given parts of a letter written by the prosecutor with the intent of currying favor with the Trump administration. The letter was sent by the prosecutor through unofficial channels to President Donald Trump's personal lawyer Rudy Giuliani, the lawmaker told journalists on Monday in Kiev as he distributed copies of two pages.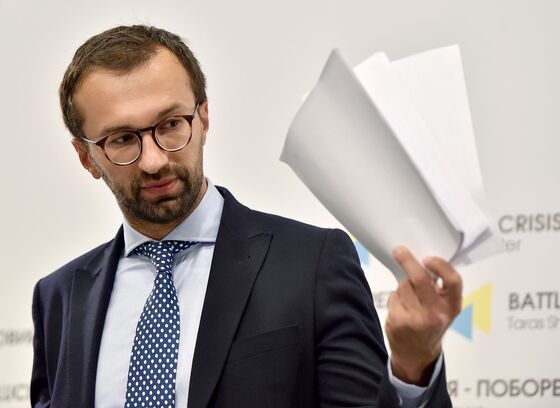 The letter, purportedly written by Prosecutor General Yuriy Lutsenko, said that Biden, while U.S. vice president, personally received income from a Ukrainian natural gas company in exchange for "lobbying activities and political support."
The lawmaker said those allegations were false.
As Leshchenko explained it, the prosecutor was trying to hold onto his job in a new administration. The incoming Ukrainian president, Volodymyr Zelenskiy, campaigned on a vow to fight corruption and has said he would name a new prosecutor general.
"I can assume that Lutsenko's plan is simple" -- that is, to build intrigue around Biden to show U.S. authorities that the prosecutor can be a useful partner, Leshchenko told reporters.
Larysa Sargan, a spokeswoman for the prosecutor general, denied that Lutsenko or anyone in his circle had written such a letter. The pages, which were reviewed by Bloomberg News, didn't include dates or information about the sender or addressee, and their authenticity couldn't be verified.
Giuliani didn't respond to requests for comment.
Ukrainian officials have been drawn deeper into a dispute over Giuliani's claim that Biden, as U.S. vice president, had intervened in Ukrainian politics to head off an investigation of the gas company, Burisma Group, where his son was a board member. Burisma and its wealthy owner, Mykola Zlochevsky, have denied any wrongdoing.
Leshchenko, a former investigative journalist, was a supporter of Zelenskiy and has taken part in some election and transition meetings. He didn't say when the letter to Giuliani was sent. He said he had received the excerpts through people allied with U.S. conservatives.
Giuliani told the New York Times last week that he planned to visit Kiev to urge President-elect Zelenskiy to pursue inquiries into matters of interest to Trump, including an investigation into Biden's involvement with Burisma. "We're not meddling in an election, we're meddling in an investigation, which we have a right to do," he told the Times.
``There's nothing illegal about it,'' Giuliani told the paper. ``Somebody could say it's improper.''
The controversy centers around Biden's March 2016 ultimatum to Ukraine to fire the country's then-prosecutor general as the U.S. and its partners pushed the country to deal with official corruption. Giuliani alleged that the demand by then-Vice President Biden raised questions about potential conflicts of interest.
Biden's son, Hunter Biden, sat on the board of Burisma, whose owner had at one point been under investigation. The case against Burisma had been dormant when Biden demanded the firing, a former Ukrainian deputy prosecutor, Vitaliy Kasko, told Bloomberg News last week.
Giuliani quickly canceled the trip amid criticism that he was enlisting a foreign government to help get Trump re-elected.
Biden responded that Giuliani's planned trip to Ukraine was "inappropriate."
"I can't remember any lawyer representing the president, conferring with the president, deciding to go overseas where a government that relies on U.S. largess to try to get them to do something that everyone knows never happened," Biden said in an interview in New Hampshire posted on Twitter Monday. "It's sort of Giuliani's style and this administration."
A spokesman for Biden had previously said he didn't talk to his son about his business. Hunter Biden left Burisma's board last month.
Giuliani, who had planned to give a speech to a Jewish group in Kiev, told Bloomberg News over the weekend that he would reschedule the event for the fall.
Giuliani has labeled Leshchenko an enemy of Trump, accusing him of revealing a so-called "black ledger" from the country's Party of Regions that detailed payments to people including former Trump campaign chairman Paul Manafort.
Giuliani and others close to Manafort have called the ledger fraudulent. Leshchenko on Monday said the ledger was authentic. Ukrainian prosecutors have said it is genuine and are investigating payments recorded there.