U.K. Economic Contraction Slows Slightly 
(Bloomberg) -- The U.K.'s economic slump eased this month as some companies resumed trading amid a lockdown that has brought most activity to a halt.
IHS Markit's Purchasing Managers Index for the whole economy rose to 28.9 from 13.8 in April in a preliminary estimate. That still signals a sharper contraction than in the financial crisis and it's one of the lowest readings in the survey's two-decade history.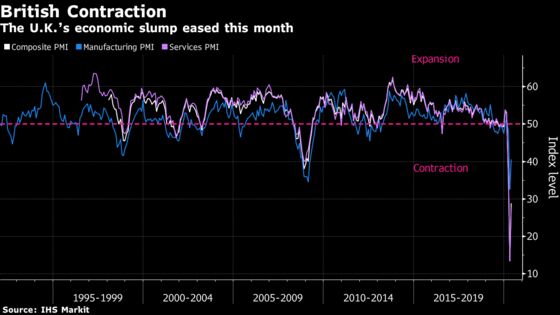 The coronavirus has led many firms to shut up shop as workers stay home and travel is restricted. Still, separate figures from the Office for National Statistics showed that some businesses started trading again between April 20 and May 3, with the beleaguered accommodation and food services sector making up the largest proportion.
That was also before Prime Minister Boris Johnson eased lockdown measures slightly in the middle of May. Britons can now spend an unlimited amount of time outdoors, and people who cannot work from home are being encouraged to go to their jobs.
What Bloomberg's Economists Say:

"The survey probably overestimates the gloom with a modest easing of the lockdown this month making it unlikely the economy contracted again in May. It's more likely GDP rose modestly, albeit from very depressed levels."

-- Dan Hanson, U.K. economist

For full note click here
The figures show some businesses may be adapting to prolonged social-distancing measures, providing stirrings of life in the economy. Business expectations also improved somewhat, though companies reported that demand will take a long time to recover.
"This remains a shockingly broad-based downturn with very few companies left unscathed," said Chris Williamson, an economist at IHS Markit. "Travel and tourism firms, hotels, restaurants and producers of consumer goods such as clothing were again the hardest hit, reflecting virus containment measures."
With the fallout possibly pushing the economy into its deepest recession in three centuries, Bank of England policy makers are studying how low interest rates can be cut.
Governor Andrew Bailey told lawmakers on Wednesday that officials aren't ruling out the idea of taking borrowing costs below zero to fight off the economic impact of the pandemic.
A separate report by the Confederation of British Industry showed manufacturing output dropped at the fastest since at least 1975 in the three months to May. However, factories said they expect the pace of declines to slow in the coming months.