UBS Says Investors Won't Make Money on India Stocks in 2019
(Bloomberg) -- Last year's top performing Asian stock market in local currency terms won't move the needle for investors in 2019, UBS Securities India Pvt. says. In fact, the benchmark may drop around 9 percent from current levels, according to the brokerage.
The NSE Nifty 50 Index will end 2019 at 10,000 points, analyst Gautam Chhaochharia wrote in a note on Wednesday, suggesting no profits for investors from the benchmark gauge of top companies. Its estimates for upside and downside scenarios also suggest an "unattractive risk reward."
"While GDP growth may recover a bit, political and policy uncertainty keeps us cautious," Chhaochharia said in the report. The index recently traded at 10,900 in Mumbai.
Indian equity-market valuations have remained relatively high over the past four years even as estimates for the magnitude of earnings growth have been cut, the analyst said, attributing the stability to government policy changes. The outlook, however, is changing.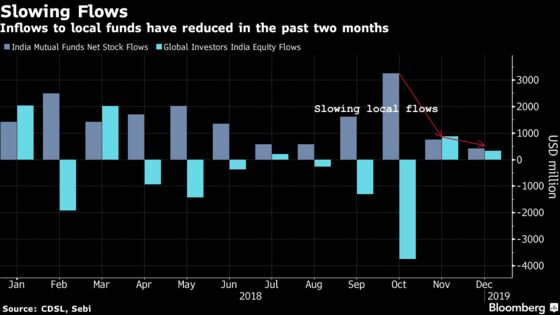 "Although liquidity has started to normalize post the tight phase in (the second half of 2018), easy money of the past three years is unlikely to be back in a hurry. Historical returns have supported retail flows historically, and this too is now less of a support," the analyst wrote.
Here are the excerpts from the report:
UBS estimates FY20/FY21 earnings growth of 16%/14%, implying a 9% cut to the FY20 consensus estimate of 25%
A return to double-digit earnings growth may be due to normalization of earnings for financial companies rather than a broader pick-up
UBS have more neutral/underweight sectors than overweight for 2019; recommends investors buy specific stocks rather than industry groups