UBS Intensifies Succession Planning for CEO Sergio Ermotti
(Bloomberg) -- UBS Group AG is intensifying succession planning for Chief Executive Officer Sergio Ermotti and will consider external candidates to lead Switzerland's largest bank, according to people familiar with the matter.
Chairman Axel Weber is said to favor an outside candidate for the role, while Ermotti also told investors recently that the company is working on a plan, the people said, asking not to be identified as the deliberations are private. A change isn't imminent, with one person saying that Ermotti could still remain for about two years.
The bank is also said to be looking at succession plans for some of the board of directors, and is considering strengthening the executive board, according to people familiar with the matter.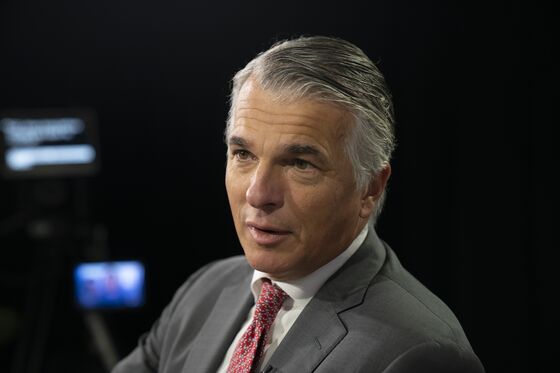 UBS is laying the groundwork to find a replacement for one of Europe's longest-serving bank CEOs after high-profile departures in the past year, such as top dealmaker Andrea Orcel and wealth management head Juerg Zeltner. Ermotti, who joined UBS in 2011 from UniCredit SpA after a career at Merrill Lynch, steered the bank away from investment banking towards wealth management after it received a government bailout in 2008.
"Succession planning has been and will continue to be part of our regular ongoing run-the-bank operation," UBS said in an e-mailed statement. "There are no changes to what the chairman and the CEO have previously communicated with regard to the planning, process and timing of any succession."
The bank has been vague on its plans until now. Weber told Manager Magazin last year that he'd like to stay in his position alongside Ermotti until at least 2022, and said recently that the bank has a strong talent bench. Asked about succession at the bank's investor day in October, Ermotti said it was a question for the board, adding "as long as I have the energy and the passion for what I do and people believe that it's okay, then I will do it."
Ermotti bought $13.1 million of shares in Switzerland's largest bank shortly after that investor day, the largest management purchase in years, in a show of confidence to owners of the stock.
UBS shares fell 3.6 percent at 4:53 p.m. in Zurich. They're down 31 percent this year, extending their decline since Ermotti's purchase, amid the general bear market among European banking shares.
UBS is currently assessing internal candidates versus those outside the bank, one of the people said. Martin Blessing and Tom Naratil, wealth management co-heads, had been seen as front-runners to succeed Ermotti. A successor would most likely come from within, Ermotti told Switzerland's Bilanz magazine in February. "Something probably would not have gone well if my successor came from outside," he said at the time.