Uber to Quit Colombia After Judge Says it Doesn't Compete Fairly
(Bloomberg) -- Uber Technologies Inc. is ending its ride-hailing service in Colombia after a local regulator ruled the company wasn't competing fairly.
The service will stop functioning from Feb. 1 in response, the company said in a statement. Food delivery service Uber Eats will continue to operate, it said.
Uber said the Dec. 20 decision by a judge at the industry's market regulator, which found that Uber's app violated competition norms, was "surprising" and "arbitrary" and said it appealed the decision. Cotech SA, a taxi-service platform, filed the lawsuit against Uber.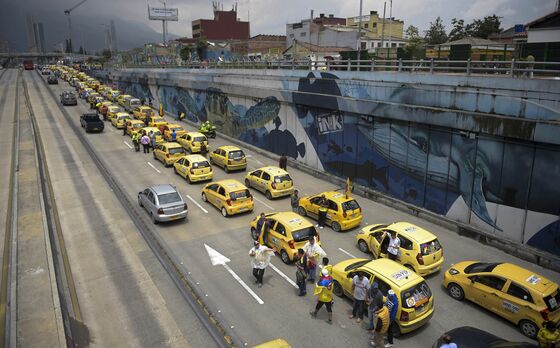 Uber says it has 2 million customers and 88,000 drivers in the country. It has been operating in Colombia for six years, with its presence generating several protests by taxi drivers.
Many Colombians are afraid to hail taxis in the street in the nation's crime-ridden cities. One taxi crime, known as the "millionaire ride," involves stopping the car to enable armed accomplices to enter, before taking the victim to ATM machines to empty the rider's bank accounts.
In 2014, Colombia extradited seven men to the U.S. for the murder of DEA agent James "Terry" Watson, who was knifed to death during a botched taxi kidnapping.