Uber Plans Paris Flying-Car Lab as CEO Sees Future in 3D
(Bloomberg) -- Uber Technologies Inc. will open its first research and development center outside of the U.S., a lab in Paris focused on flying cars.
"We're no longer just about cars, we're about urban mobility," Chief Executive Officer Dara Khosrowshahi said Thursday in an on-stage interview at a technology conference in Paris. "It includes cars, carpool, electric bikes and flying cars we hope."
The ride-hailing company will invest 20 million euros ($23.5 million) over the next five years in the facility, which will be centered on technologies to support the development of Uber Elevate, its flying-car initiative. The project reflects Uber's view that transportation ultimately will be "three dimensional," meaning that vehicles will move vertically as well as horizontally, Khosrowshahi said.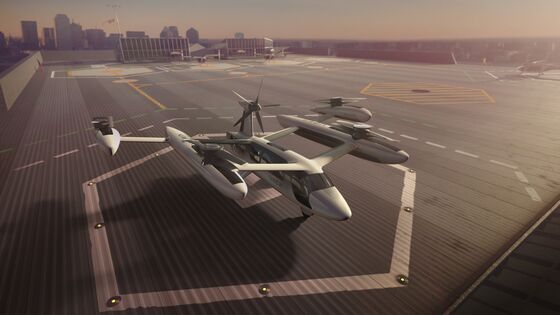 With the streets of cities increasingly congested, the CEO wants his company's future to be airborne. Uber has five airborne-car partners working on a new generation of vehicles designed to fly near dense urban areas, including one owned by Boeing Co. and another founded by the father of the Predator drone.
Uber's Parisian lab -- officially Advanced Technology Center Paris -- will open in the fall and the company said it intends to create new jobs in the fields of machine learning and computer vision. The ride-hailing company cited engineering talent and France's role in global aviation, through Airbus and others, as reasons for setting up a lab there.
Uber joins a number of other technology companies opening research facilities in Paris as they try to tap the French capital's deep pool of scientific and engineering talent. The city boasts some of the world's top technically oriented universities, including Ecole Polytechnique, with which the San Francisco-based startup has partnered to advance its R&D ambitions.
Three years ago, Facebook Inc. set up an artificial-intelligence research center in Paris -- now the company's largest such lab -- and this week it committed to further expanding the facility. DeepMind, the London-based AI company owned by Alphabet Inc., said in March that it's opening a lab in Paris too, following a similar move by sister company Google, announced in January.
Paris this week is hosting executives from Khosrowshahi to Facebook's Zuckerberg as they attend French President Emmanuel Macron's Tech for Good summit and speak at Viva Technology. Uber followed the Macron meeting by unveiling a deal with insurer Axa SA to cover its drivers and couriers across Europe.
"This was a company that was in trouble and lost its way in certain ways," Khosrowshahi said at Viva Technology. Now Uber is refocusing on "responsible growth," he said.
Asked about profitability, he said: "Of course Uber will be profitable one day. I just can't tell you when."