Uber, Lyft Stock Reprieve May Not Last Long, Analysts Warn
(Bloomberg) -- Shares of ride-hailing peers Uber Technologies Inc. and Lyft Inc. rose Tuesday after a drubbing over the past two sessions, but Wall Street analysts still recommend investors proceed with caution.
Uber shares gained as much 3.8%, but then quickly turned negative, only to again trade slightly higher. Lyft shares, which were more steady on Tuesday, rose as much as 6.3%. The S&P 500 also gained, rising 1.3%, as the worst concerns over a trade war with China eased.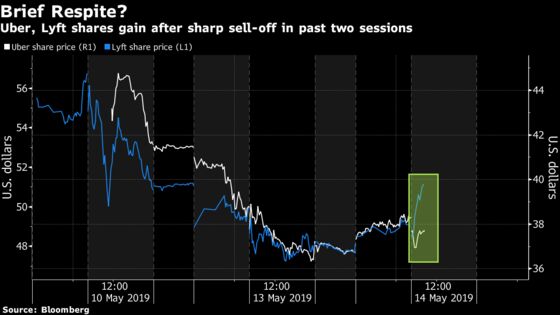 "Uber's weak stock performance since its IPO on Friday reflects investors' evolving views on ridesharing business models," D.A. Davidson analyst Tom White wrote in a note to clients. "Our recent discussions with investors suggest that, for whatever reason, sentiment has changed significantly over the past week when it comes to a very simple question: is operating a ride-sharing platform a good business model?"
The analyst also questioned a possible "broad consensus" that Uber deserved to trade at a premium to Lyft, saying such a multiple might not be warranted due to Uber's "sharply slowing revenue growth, share losses, more impaired brand, and deteriorating Core Platform margin trends."
The wider skepticism about ride-sharing services is reflected in both stocks, with Uber now trading 16% below its IPO price, and Lyft trading nearly 30% below its own offering price. While Uber's public debut, which came after Lyft's, was expected to be a positive catalyst, it has turned out to be the exact opposite so far. And more declines are expected in the near future.
According to Seaport Global analyst Michael Ward, the biggest bear on Lyft, the company's valuation is expected to settle at around $11.3 billion, or $35 per share. That would imply a 27% decline from the shares' Monday close.
The disastrous public debuts of these two closely-watched companies may also spell trouble for a traditional automaker. Buckingham analyst Joseph Amaturo said the average decline in value for both Uber and Lyft versus their private valuations would imply a value of $16 billion for General Motors Co's Cruise unit -- which is developing self-driven cars -- rather than the $19 billion market value it realized after its latest round of private funding.